Estimated read time: 3-4 minutes
This archived news story is available only for your personal, non-commercial use. Information in the story may be outdated or superseded by additional information. Reading or replaying the story in its archived form does not constitute a republication of the story.
JONESBORO, Ark. — When Utah State coach Matt Wells announced sophomore quarterback Darell Garretson would be starting Saturday at Arkansas State, it hardly changed the game plan for Red Wolves coach Blake Anderson.
Anderson, the first-year head coach who was recently offensive coordinator at North Carolina and Southern Mississippi, knows Garretson is more than capable, and Anderson is preparing for that matchup as the Red Wolves (1-2) host the Aggies (2-1) at Centennial Bank Stadium at 5 p.m. on ESPN3.
"Chuckie (Keeton) is probably more mobile. Even with the knee injury, he's a guy you have to contain. You definitely have a plan to keep him in the pocket," Anderson said in Monday's Sun Belt Coaches' Teleconference. "But you look, and they've been successful when he's not played. (Garretson) is 6-1, so they've found ways to win. We just have to work on ourselves. We've just got to do our job, play more soundly and eliminate our issues, regardless of who plays."
It's easier for Anderson to focus on his own team when his Red Wolves are so young. Arkansas State played more than a dozen true freshmen in last week's loss at Miami, and the Red Wolves' offensive line is among the youngest in the country. In all, the squad has seen 28 players play their first game experience this season, with six true freshmen listed on the two-deep roster.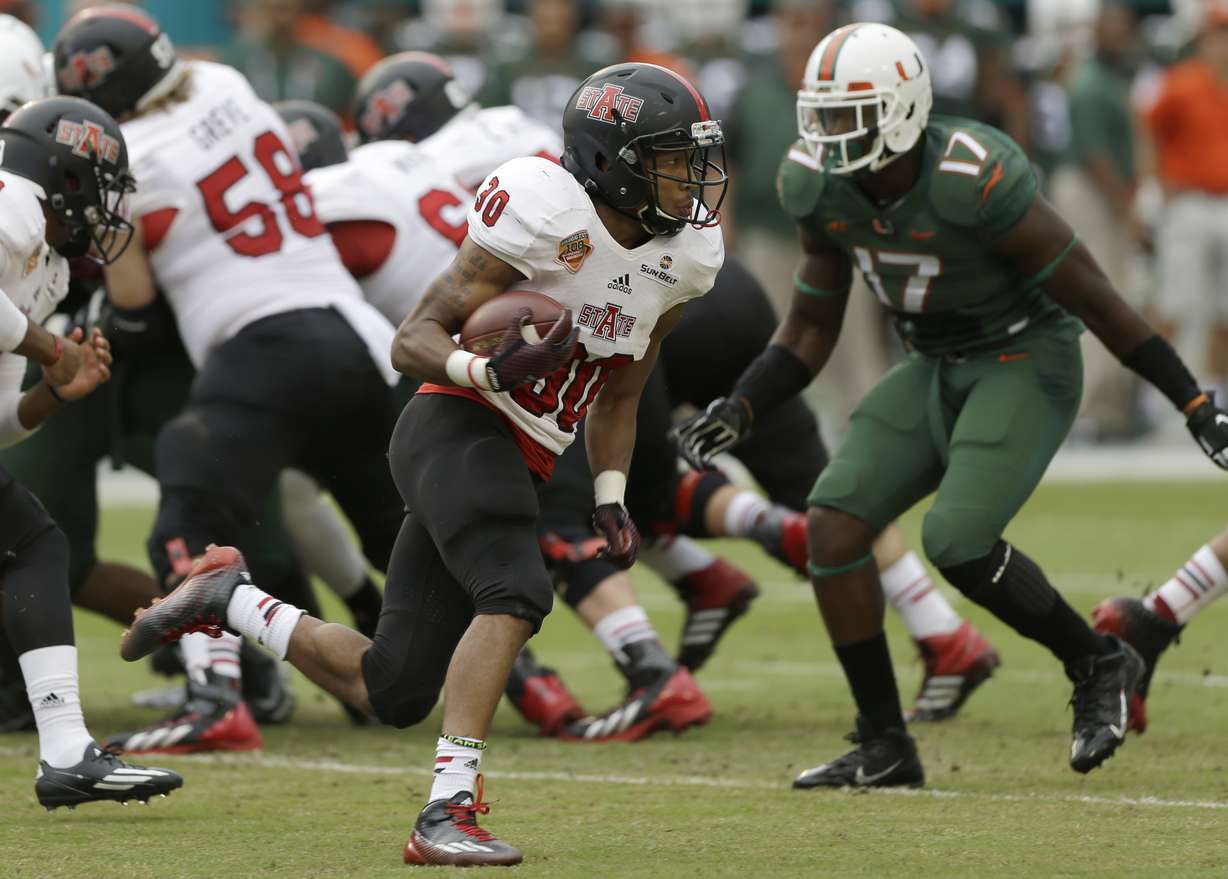 Still, there were improvements, he said.
"The kids played hard for 60 minutes, and that's the biggest thing to build on," Anderson said. "Those guys are getting better. They will only improve as the season moves on."
Utah State leads the all-time series 3-2 in games that go back to 1995, but both of the Red Wolves' victories came at home, a 21-17 win in 1996 and a 16-7 win the last time the two programs met in 2004.
Saturday's game will be the first non-conference meeting between the two schools. Arkansas State and Utah State were both members of the Sun Belt Conference in 2003-04, and played together in the Big West Conference from 1993-95 and again in 1999-2000.
The biggest advantage the Red Wolves will see, then, could be the home environment.
"I've got to think that traveling here is easier on us than it is on them," Anderson quipped. "I'd like to think that weather plays in our favor. We like to play at home."
Wells agreed, adding Arkansas State has a variety of speed that will fare well in the hot, humid climate of Jonesboro, Arkansas.
"I love going on the road," Wells said. "It brings you closer. I think we've played well on the road here, and I think our kids have a good mindset on the road. I like wearing the road unis, rallying together in the locker room and in the hotel. I think our kids feed off of that pretty good."
Utah State's run defense, which rates No. 4 in the nation, could stop an Arkansas State team that averages 172.3 yards per game. But the Aggies' pass defense could have trouble containing wide receiver J.D. McKissic, who leads the team with 16 catches for 180 yards, and Tres Houston, who has 14 catches for 157 yards and a touchdown and has also thrown a touchdown pass for the Red Wolves.
"He's a talented kid. I like that kid," Wells said of McKissic. "I know Blake and (Arkansas State offensive coordinator Walt Bell) enjoy game planning around that kid. I bet they throw passes. Those guys are fun to watch if you are watching it from an offensive perspective."
Both teams expect to see fast, up-tempo offenses when they meet Saturday evening.
"They play with a tremendous amount of speed and tempo," Anderson said. "That's something we try to do, and it keeps us in games when we are outmatched physically. But those guys play hard for 60 minutes, so you are never out of it, regardless of the score."
×
Related stories
Most recent Sports stories