Estimated read time: 2-3 minutes
This archived news story is available only for your personal, non-commercial use. Information in the story may be outdated or superseded by additional information. Reading or replaying the story in its archived form does not constitute a republication of the story.
If you know a "Smart Woman" or if you think you have an interesting Smart Woman topic, you can contact Candice at cmadsen@ksl.com.Some things about pregnancy never change. But in today's Smart Woman, we take a closer look at some new trends with a woman who has become an expert on what to expect when you're expecting.
Heidi Murkoff wrote "What to Expect When You're Expecting" when she was pregnant with her first child. Twenty-five years later, it remains the best-selling book on pregnancy. Now she's just finished a fourth edition that reflects how pregnant women have changed.
Topping the list of new pregnancy trends is the rate of multiples. "The number of parents seeing double in the delivery room is up 50 percent. The number of seeing triple or more is up 400 percent," Murkoff said.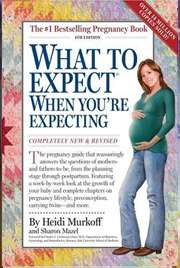 She says that's largely due to the aging of our mom population--older moms are more likely to produce multiples.
Another noticeable change comes in maternity clothes. Murkoff says being pregnant and fashionable is no longer an oxymoron. "It used to be that you had to hide your belly," she said. "And now the clothes cling and celebrate the pregnant form."
One trend that Murkoff says is cause for concern is the increasing number of C-sections and inductions that are being scheduled. "As a result of that trend, a lot of babies are being born too soon because their due dates are being miscalculated," she said.
Murkoff also points out that more moms-to-be are in the workplace than every before. She says a lot of companies are becoming more family friendly, but there's still a long way to go. "This country, of course, is way behind the curve compared to other countries in terms of pregnant workers' rights," she said.
Murkoff says women today need to learn how to play pregnant office politics. "Everything from how to tell the boss, when to tell the boss, because you don't want to tell too soon. You don't want to have the boss hear it from somebody else," she said.
One piece of advice Murkoff says will never change is reminding mothers that despite all the similarities, every pregnancy is different. "There's a wide range of normal and you. Your baby and your body are unique. If you keep that in mind, you are probably going to stress less and enjoy your pregnancy more," she said.
Murkoff says another interesting trend is the number of family and friends showing up in the delivery room. She says some couples are turning it into a party.
For more information on "What to Expect When You're Expecting," click the related link.
×
Related links
Most recent Utah stories