Estimated read time: 3-4 minutes
This archived news story is available only for your personal, non-commercial use. Information in the story may be outdated or superseded by additional information. Reading or replaying the story in its archived form does not constitute a republication of the story.
HUNTSVILLE — Driving under a canopy of trees tucked between rolling fields, visitors wind their way to the Abbey of Our Lady of the Holy Trinity.
"Each time we turn down the drive here … you just come down from whatever level you're on to a place of peace, of comfort," Lothair Pendleton said.
Pendleton and his wife, Dorothy, have been coming to the Trappist monastery and bookshop and gift store to escape a bustling world for more than 40 years.
He is a member of The Church of Jesus Christ of Latter-day Saints, and she is Catholic. But the monastery is a spiritual refuge for both of them.
"There won't ever be any place like this," Dorothy Pendleton said as she looked around the bookshop, clutching a rubber bracelet.
Now all the items are discounted 50 percent to empty the store before it closes.
For the monks, many of whom have been at the monastery for more than 60 years, the daily tasks of running the store have become too difficult. And there are no new recruits coming to embrace the monastic lifestyle.
Father Leander Dosch runs the store, and said at one time the monks had a dairy and chickens. They farmed the land and sold their famous bread and honey.
Eventually, those features were all dropped. And the monastery itself isn't far behind.
---
There won't ever be any place like this.
–Dorothy Pendleton
---
"It's inevitable, you might say," Father Leander said. "We're facing the fact that the monastery's going to close in a couple of years."
With just 10 monks at the monastery, Father Leander said they were told by their superior, Father Brendan Freeman, not to accept any new candidates. Father Leander said the monks there weren't able to offer the necessary training.
"I was prepared for it," he said of the news.
But many within the monastery community, and even more outside, were not.
"It's just a peaceful and calming place," Shelly Fagen said. "It kind of helps you center yourself and remember what's important in the world."
She said she's not sure where she'll find that refuge when the monastery closes.
Her husband, Kelly, said it's a sign of the times.
"It's a faithless society in some ways," he said. "And with modern technology, I think that teenagers are more detached and don't really get the big picture."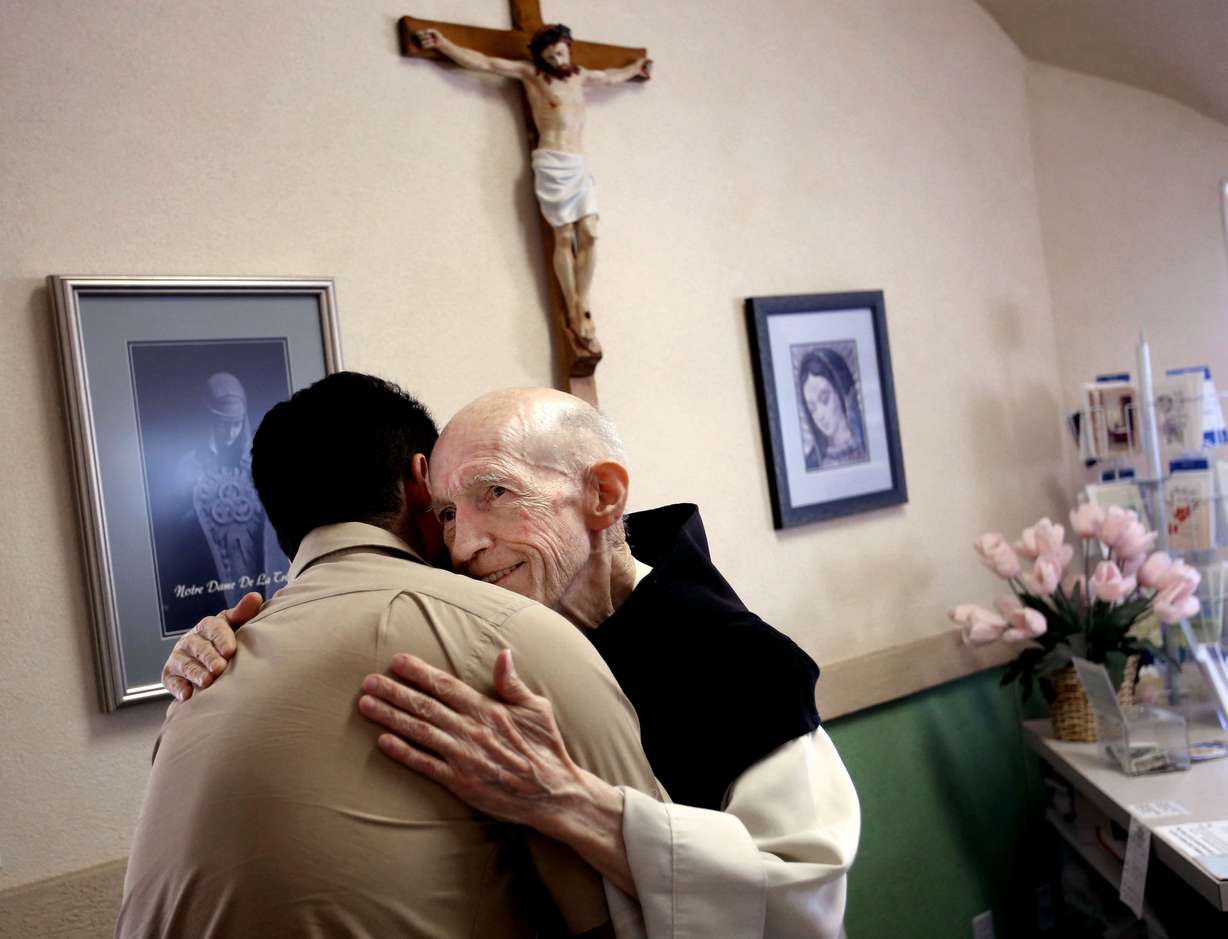 Kelly Fagen has been coming to the Huntsville monastery since he was 10. Living in New Hampshire wasn't going to stop him from sharing a day at the monastery with his daughters Kelsey and Kiley.
As the girls roamed the store, picking up medallions and books to give to family members they soaked in the quiet, peaceful feeling on the property.
"When I came and saw kind of, how empty it was, it kind of put me down," Kelsey Fagen said. "Because it was a special place and it still is. And I felt like it's going out. And it shouldn't."
Her sister Kiley described it as serene, sobering and peaceful.
"It's a special experience and you wish it was continuing for the rest of (the) generations to come," she said.
Lothair and Dorothy Pendleton said there are many places they go to find spirituality, but the monastery in Huntsville is one that cannot be replaced.
Several pieces from the store adorn her home — each piece leaves the store with a special blessing.
"They mean a lot to me and they mean a lot to the people I give them to," she said.
But the importance of the place is not about the purchased goods.
"It's been a place to come and meditate and feel close to God," Dorothy Pendleton said, her eyes welling with tears. "And to come up here and know it's closing, it's really hard. This has just been a beautiful place."
×
Photos
Most recent Utah stories