Estimated read time: 4-5 minutes
This archived news story is available only for your personal, non-commercial use. Information in the story may be outdated or superseded by additional information. Reading or replaying the story in its archived form does not constitute a republication of the story.
SPANISH FORK — Two months after the birth of their first child, a Utah woman was reunited with her husband following a complicated immigration process.
Vilate and Joseph Ssempala met in Uganda while Vilate was doing an internship for Musana Jewelry, an organization that employs single mothers in the country. The pair quickly fell in love and were married on July 27, 2013.
The couple had planned on eventually moving to Utah, where Vilate Ssempala is from, but complications from a surprise pregnancy — doctors told her years earlier that she likely wouldn't be able to have a children because of her endometriosis — required her to move home sooner than expected. Joseph Ssempala had to stay in Uganda while he waited for a visa to come live with his growing family.
The Ssempalas were worried the process could take a year or longer, partly because Vilate Ssempala had run into difficulties obtaining a passport for herself in the past. She was born into a polygamist family and her parents used incorrect information on her birth certificate, making it so she couldn't prove citizenship.
It took nine-and-a-half months for Joseph Ssempala to receive his visa, during which time the couple's baby was born. He was able to move to Utah about a month ago.
"The baby recognized Joseph right away and to me it seems like it was pretty seamless — he got here and it feels almost like he never left," Vilate Ssempala said. "My family has just fallen in love with him."
Related Story
The process for obtaining a visa for Joseph Ssempala was expedited when his wife started experiencing more complications for her pregnancy. She was unable to sit longer than 15 or 20 minutes without passing out, causing her to go on bed-rest and lose her job.
Since Vilate Ssempala's family wasn't able to attend the couple's wedding or reception in Uganda, they held a second reception on their 1-year anniversary. Friends and family members volunteered to bake a cake and help with decorations, reducing the couple's cost for the entire celebration to $15.
Their baby boy is a happy 3-month old, and the couple is enjoying spending time together with him.
"He is doing great and is healthy," Vilate Ssempala said. "He has curly black hair with blue eyes and is so chubby that we're not sure how he will learn to walk around."
The couple feels blessed that the immigration process only took a little more than nine months with the expedited process because it could have been a lot longer. But, they said, based on their experiences they think there are flaws in the immigration process that need to be looked into.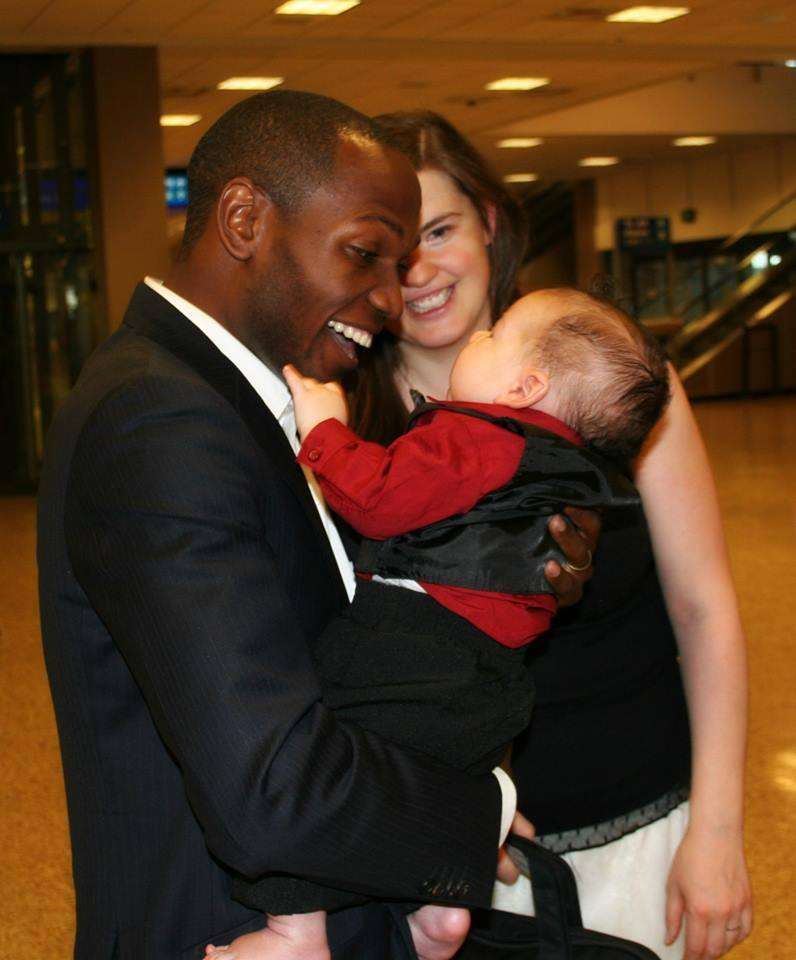 Vilate Ssempala said while immediate family members are made a priority over other immigrants, in situations where children are involved the paperwork should be processed faster. She said the U.S. immigration website stated the department would try to complete the process in five months, but at the time Joseph Ssempala applied the average processing time was closer to 11 months.
"There are needs there that are so much more critical than just getting to see each other," she said. "With us, because it was so long that he wasn't able to be here and I lost my job, we ended up having to go on Medicaid, having to get on food stamps and use government programs that essentially end up costing the state quite a lot."
Vilate Ssempala says that in situations where children are involved if spouses could come to the United States sooner to work the government could save money. Those funds could potentially be used to hire additional workers to process immigration paperwork faster to avoid these problems.
While going through the process, Vilate Ssempala got to know other families in similar situations. To her, it felt like there should be more checks and balances for the program.
"There is no one to say, 'Maybe if we're running six months longer than our goal, something ought to be done about it,'" she said. "That was the biggest flaw I saw — a lack of accountability in the whole system."
Despite the difficulties the couple faced, however, they are happy to start their life together in the United States. Vilate Ssempala has been writing about her experiences on her blog.
"It could have been a lot worse," she said. "As hard as it was, I feel really blessed that things worked out like they did."
Contributing: Celeste Tholen Rosenlof
×
Photos
Related links
Related stories
Most recent Utah stories