Estimated read time: 2-3 minutes
This archived news story is available only for your personal, non-commercial use. Information in the story may be outdated or superseded by additional information. Reading or replaying the story in its archived form does not constitute a republication of the story.
Ed Yeates reportingChildren with a fatal form of muscular atrophy are surviving, even getting better, from an experimental, sour solution they take every day. Some of the stories are dramatic, some subtle, but they keep getting documented in a rare clinical trial at Primary Children's Hospital.
Jenny and Brad Campbell's family has been hit hard with Spinal Muscular Atrophy, a genetic disease that gradually destroys the function of motor neurons and muscles in the limbs of their children. Their son died from it. When their twins were born, both appeared OK, but one of the girls tested positive for SMA.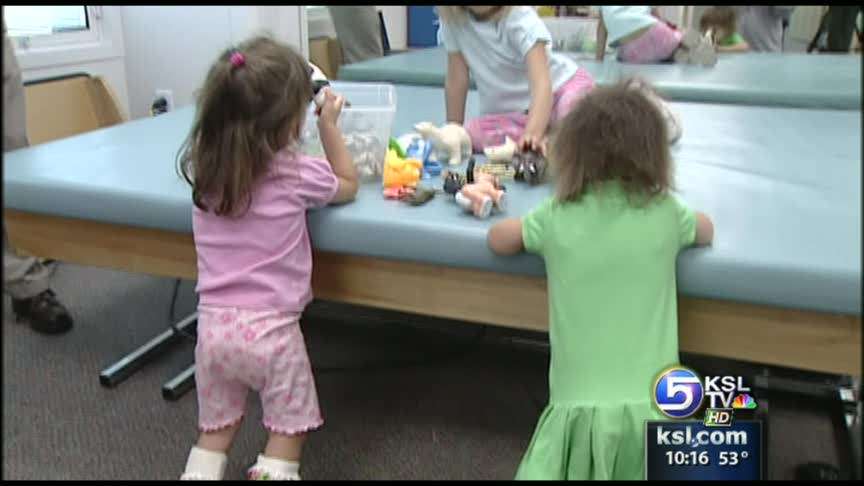 The Campbells came from their home in Texas to Primary Children's Hospital to put their daughter Tambryn on an experimental compound called Sodium Phenylbutyrate. From stage one (the most critical) she's now improved to stage two.
Jenny Campbell says, "Her movement is just amazing. Before we started her on the PBA, we did not know what to expect. Now she can sit supported by herself. She's starting to roll to her sides."
We've been reporting on other kids too over the past several years, like two girls who've been standing on their own two feet.
The testing originated at Primary Children's more than four years ago. This year's trial on kids who are pre-symptomatic is the only one of its kind in the world. In this latest testing, the compound is given before symptoms appear.
Tambryn developed the disease but not as bad as it could have been. Next to another little girl, Hannah Hafen, who cannot move, Tambryn can.
And without the drug, Brad Campbell says, "She wouldn't be with us, and she would be with Jesus in Heaven with her little brother."
Another child, Ian Benton from Louisiana, was put on the compound immediately after he tested positive for type two SMA. So far, he shows no signs of muscular atrophy!
Kathryn Swoboda, M.D., a neurologist at Primary Children's Hospital, says, "On treatment from when he was an infant, and I have not seen any sign of the disease at this point, to 18 months."
Indeed, the compound, when given early, appears to change the course of this disease. That's why Dr. Kathryn Swoboda is pushing now for newborn screening for SMA.
This newest pre-symptomatic clinical trial began this year and includes kids with both type one and type two Spinal Muscular Atrophy.
E-mail: eyeates@ksl.com
×