Estimated read time: 4-5 minutes
This archived news story is available only for your personal, non-commercial use. Information in the story may be outdated or superseded by additional information. Reading or replaying the story in its archived form does not constitute a republication of the story.
HURRICANE, Washington County — Skyah Suwyn's bright blue eyes and sweet spirit lit up every room.
The 11-month-old girl, presumed to have died from heat exhaustion Friday afternoon after being left in a car, brought incredible joy to her family, her aunt said Saturday.
The baby's death was a terrible accident that has devastated her sister and her family, Aimee Wright said.
"It was an accident. If people who are being negative could even see how hard she is on herself. If they could see that she keeps saying, 'If only. If only. If only. I wouldn't have been out of my routine that day. If only I had gone to the gym.' She blames it all on herself," Wright said through tears.
Under normal circumstances, April Suwyn takes her sons to a babysitter while she works in the family home doing nails, Wright said. The baby usually sleeps while Suwyn attends to her clients.
On Friday, she dropped off her older sons with Skyah in the car, then returned to the family's home. There was construction on the street so Suwyn parked up the street from their home. She needed to use the restroom so she hurried into the house after parking the car.
Ordinarily, she would then put the baby down for her nap.
"In her mind, she had laid Skyah down for a nap. That was her normal routine before she would start doing nails," Wright said.
Suwyn usually asked a neighbor to watch the baby while she drove a couple blocks to the babysitter's house.
On Friday, she got back in the car and drove to pick up the boys. After walking out of the babysitter's house to her vehicle, she discovered Skyah in the back seat.
---
She doesn't need the negative. It's eating her away. It's eating the family away. She's a good mom and she made one simple mistake that she'd take back in a heartbeat.
–Aimee Wright, April Suwyn's sister
---
Wright said her sister was devastated by the events. Her pain has been compounded by negative comments on the Internet.
"She doesn't need the negative. It's eating her away. It's eating the family away. She's a good mom and she made one simple mistake that she'd take back in a heartbeat," Wright said.
Skyah was April and Micah Suwyn's only daughter. April tended to her every whim, scarcely putting her down, Wright said.
The baby's tragic death has left a void in the family.
"It's empty," Wright said. "There an emptiness there, a loneliness. I don't know if April will ever forgive her herself."
Police said Skyah was found unresponsive in a hot car at about 1 p.m. Friday. The vehicle was not on and hadn't been "for a substantial period of time," police told KSL.com on Friday. The child was taken by medical helicopter in extremely critical condition to Dixie Regional Medical Center where she was pronounced dead.
The outside temperature in Hurricane at 1 p.m. Friday was 90 degrees, according to KSL-TV, with the high for the day reaching 97 degrees.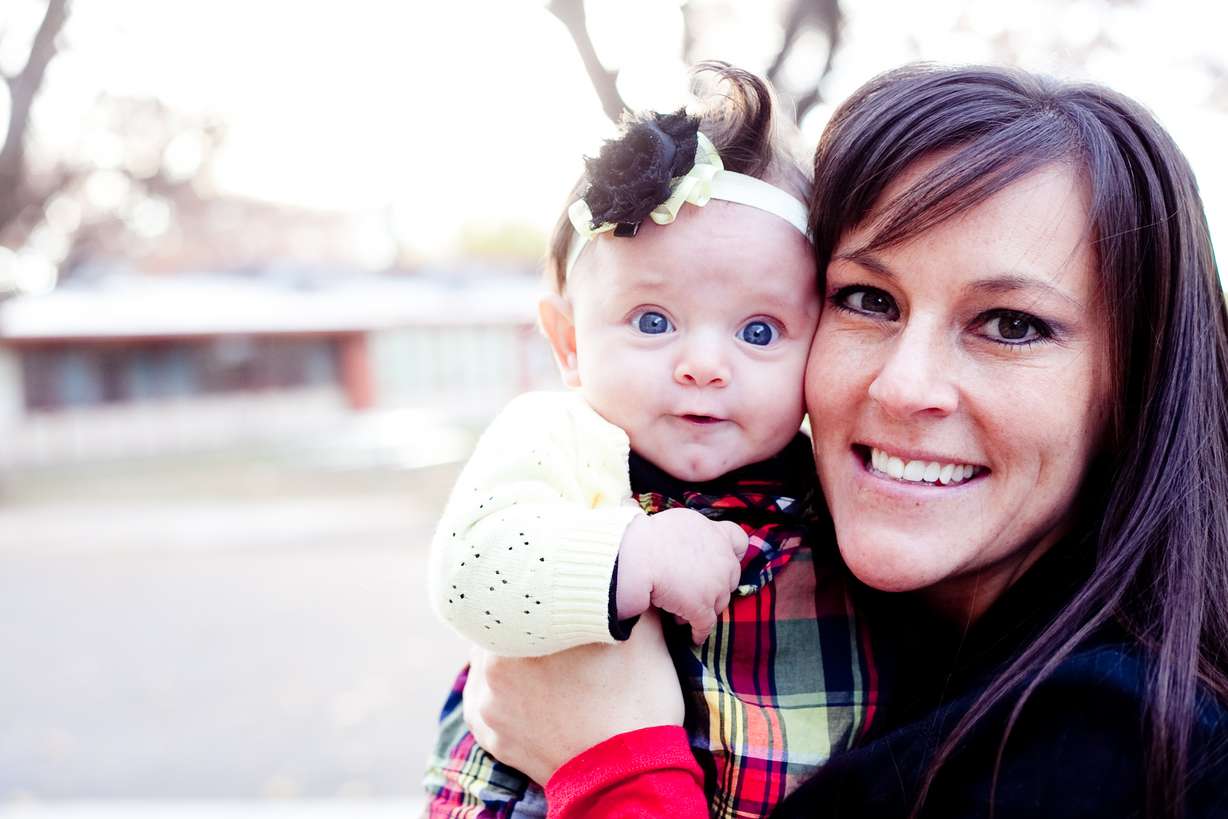 Lacie Van Dam, a family friend, said the Suwyn family needs the community's love and support to cope with this tragedy.
"April is just a fantastic mom. She loves her children more than anything in the world," Van Dam said.
Skyah was "a perfect little baby. I loved her like she was one of my own. She was a fantastic child," Van Dam said.
Friends and family are doing what they can to provide support.
A crowdfunding website collecting money for the family of Skyah quickly exceeded its initial goal of $5,000 Saturday, as many members of the small community, as well as contributors who wished to remain anonymous, offered donations they hope will would help the family heal.
"We love the Suwyn family, and we are coming together during a tragic time of losing beautiful baby Skyah to show our love for them as friends, family and community," states a message on the Baby Skkyah Suwyn Family's GoFundMe*. "Please donate as much as you feel. Thanks."
A Facebook page set up in support of the family said Skyah was "such a cherished little girl since day one."
More than 100 donations totaled $6,700-plus Saturday evening. The page was set up at about 9:30 p.m. Friday.
"I lost a baby daughter six years ago," wrote Jennie Hansen, who contributed to the fundraiser for the Suwyn family, of Hurricane. "The circumstances were not the same, but I am sure the heartbreak is."
Contributing: Wendy Leonard
*KSL.com has not verified the accuracy of the information provided with respect to the account nor does KSL.com assure that the monies deposited to the account will be applied for the benefit of the persons named as beneficiaries. If you are considering a deposit to the account you should consult your own advisors and otherwise proceed at your own risk.
×
Photos
Related Stories