This story is sponsored by Harmons. Want to talk to us in person? Stop by your local Harmons today for fun, friendly food advice.
Every week one of the chefs from Harmons Grocery Stores will be answering your toughest culinary questions. No question is too big or too small and each week we'll award a pair of Harmons cooking school passes to one lucky viewer whose question is selected. Email your questions to askachef@harmonsgrocery.com.
This week's question comes from Thomas:


What culinary questions do you have? Let us know! Email our Harmons chefs at askachef@harmonsgrocery.com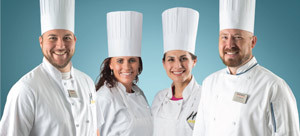 "Salmon is my favorite fish, but it's getting pretty boring. Do you have any fun, new ideas that will spice up my salmon?"
Salmon is an amazing fish because it is so versatile. Most cooking methods pair perfectly with the texture and fattiness of fresh salmon, but it can be hard to reinvent the wheel when it comes to recipes.
One of my biggest recommendations is to take classic recipes and customize them according to your taste. Add your favorite spices and citrus to change things up. Don't worry about always following the exact recipe and be adventurous with ingredients. By adding some new spices and flavors to a basic salmon dish, you'll morph that boring old recipe into something fresh and new.
Here are some of my favorite salmon recipes for inspiration: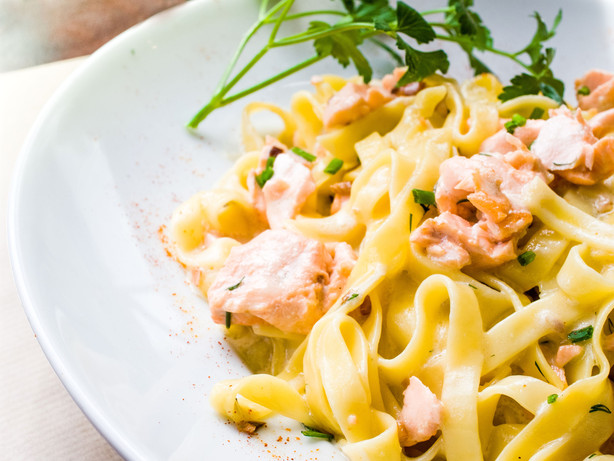 Garden Salmon Pasta
Ingredients
8 ounces cooked left over salmon, broken into chunks
1 tablespoon olive oil
1/2 pound of your favorite pasta
1 minced shallot
3/4 pound asparagus, diced small
1/2 cup vegetable broth, low sodium
2 cups frozen peas, thawed
1/4 cup yellow squash, diced
1 tablespoon dill, minced





1 tablespoon mint, minced
Directions
1. Cook pasta according to directions on the label.
2. Warm a large sauté pan over medium heat.
3. Once warm, add the oil and shallot.
4. Sweat for one minute then add the asparagus, squash and cook for one minute.
5. Season with salt and pepper.
6. Add the remaining ingredients including the pasta. Season with salt and pepper and toss to combine the ingredients.
7. Serve hot.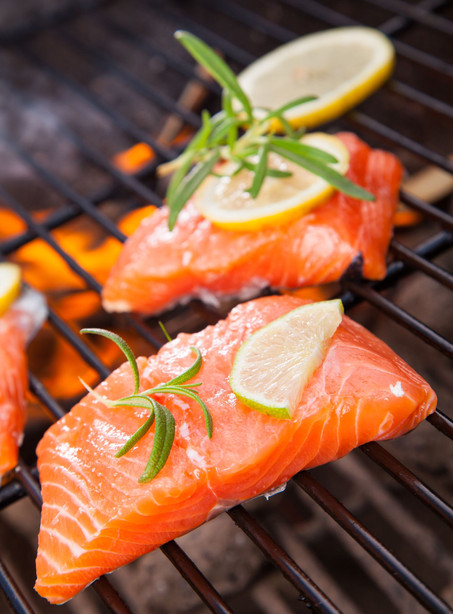 Fresh Citrus and Brown Sugar Salmon
(Recipe Courtesy Chef Johnny McAdams for Harmons)
Ingredients
2 lbs. filet of fresh salmon (will serve 4 people)
Olive oil
2 fresh limes
1/2 cup brown sugar
2 tablespoons dried rosemary
½ cup chopped flat leaf parsley
2 tablespoons lemon and orange zest
1 garlic clove finely chopped
1 tablespoon chili powder
2 teaspoons dried mustard
Salt and pepper to taste
1 bag fresh baby spring mix greens
Directions
1. Pre-heat oven to 375.
2. Blend juice of both limes with the brown sugar, rosemary, parsley, lemon and orange zest, garlic, dried mustard together.
3. Place salmon on a baking sheet, drizzle a light layer of olive oil on the salmon filet then cover the salmon with the remaining blended ingredients.
4. Salt and pepper to taste.
5. Bake on 375 for 15 to 18 minutes depending on the thickness of the filet.
6. Remove from the oven. Leave the salmon on the baking sheet for an additional 15 minutes; the salmon will continue to cook.
7. Place salmon spring mix and serve.
Salmon Ceviche
Ingredients:
1 pound salmon, diced into 1/4 inch pieces
2 limes, juiced
1 lemon, juiced and zested
2 tablespoons cilantro
2 tablespoons jicama, diced fine
1 tablespoon red onion, diced fine
1 avocado, diced into ¼ inch pieces
1 ripe mango, diced into ¼ inch pieces
1 tablespoon champagne vinegar
1 tablespoon jalapeno, minced
Salt and pepper to taste
Tortilla Chips
Directions
1. In a shallow baking dish, mix all the ingredients together and allow it to marinate in the refrigerator for one hour.
2. Remove from the refrigerator and serve with tortilla chips or on top of a salad.
Right now it is an exciting time for the Seafood Department at Harmons. On August 1, Harmons will become the only store in Utah to carry Verlasso Salmon. Verlasso is the first and only ocean-raised farmed Atlantic salmon in the world to receive the "Good Alternative" ranking rom the Monterey Bay Aquarium's Seafood Watch Program. Harmons is proud to carry this sustainable product, and we know you'll agree that it is a great addition to our seafood offerings.
Check out our other Ask a Chef articles for great tips and recipes to make your summer celebration a success.
×