This archived news story is available only for your personal, non-commercial use. Information in the story may be outdated or superseded by additional information. Reading or replaying the story in its archived form does not constitute a republication of the story.
SALT LAKE CITY — San Diego Comic-Con sent a letter saying Salt Lake Comic Con must "cease and desist" from using "Comic Con" in their name.
In a letter dated July 25, 2014, Peter Hahn, legal counsel to San Diego Comic Convention ("SDCC"), wrote that SDCC owns the "Comic-Con marks, "which" are widely recognized and famous and are closely associated with SDCC and its services."
Hahn wrote, "Use of 'Comic Con' in connection with your convention will incorrectly assume that your convention is in some way affiliated with SDCC and its Comic-Con convention."
Hahn stated he was aware of "multiple instances" where individuals believed SDCC and SLCC were affiliated due to the name.
One business contacted SDCC about a vehicle promoting Salt Lake Comic Con around Comic-Con 2014 in San Diego.
"Your use of the skinned vehicle during Comic-Con 2014 by driving it around the Comic-Con convention vicinity is clearly intended to confuse Comic-Con attendees, exhibitors and fans," Hahn wrote. "(You) are improperly attempting to take advantage of the notoriety and fame of the Comic-Con convention and Comic-Con marks."
The letter called for Salt Lake Comic Con to cease and desist all use of "Comic Con," "Comic-Con," "Comiccon," and other variants thereof.
In a press release, Salt Lake Comic Con founder and show producer Dan Farr called the order "baseless."
"We're puzzled why Salt Lake Comic Con was apparently singled out amongst the hundreds of Comic Cons around the country and the world," Farr said. "We intend to vigorously defend ourselves from this frivolous action."
"San Diego Comic-Con International is threatening not only us, but all the other Comic Cons by trying to prohibit them from using the term for their events," said Bryan Brandenburg, Salt Lake Comic Con Co-Founder and Chief Marketing Officer. "San Diego Comic-Con attempted to trademark 'Comic Con' in 1995 and the application failed. Furthermore, precedence for the mark 'Comic Con' was set when Denver Comic Con received a trademark for their convention on November 26, 2013. Nobody owns the words 'Comic Con' (short for comic convention) and the United States Patent and Trademark Office has already ruled on this."
"We've had meetings with a couple of CEOs of the major conventions that use 'comic con' as well, and they just kind of roll their eyes at this whole situation because it's so far-fetched," Brandenburg said.
Salt Lake Comic Con organizers looked into the matter while getting their own trademark and believe they are in the clear, he said.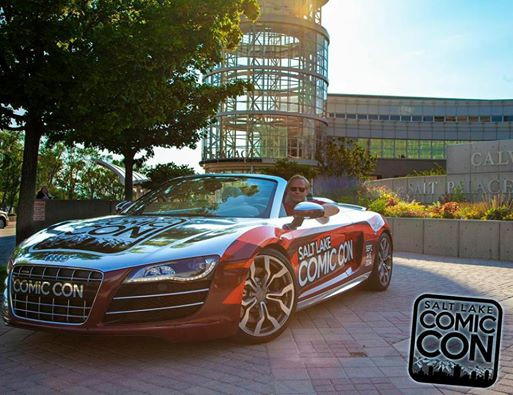 "According to the government trademark office, San Diego Comic-Con tried to get a trademark on Comic space Con before and they were denied," Brandenburg said. "They do have Comic dash Con."
San Diego Comic-Con organizers already tried to prohibit Chicago Comic Con from using the name and failed, he said. Conventions in New York and Denver use "Comic Con" as well.
The cease-and-desist letter called for a response by Salt Lake Comic Con on or before August 6, 2014.
Brandenburg said lawyers will formally respond to the cease and desist letter next week, and Salt Lake Comic Con organizers will continue to plan for the September event.
Still, Brandenburg said he and co-founder Dan Farr believe it was important to stand up to San Diego Comic-Con.
"They don't own the 'Comic Con' that they're requesting, and we feel like rather than dealing with this behind closed doors, we feel like we need to get out in the open and let the world know what they're trying to do," he said.
Over 72,000 people attended the first Salt Lake Comic Con, and more than 100,000 people attended its second event, Salt Lake Comic Con FanXperience ("FanX"). FanX was the third largest Comic Con in the country, according to the press release.
Contributing Sandra Yi
×
Photos
Related Links
Related Stories