SANDY — For the past 75 years, the Days of '47 Parade has been a tradition for lifelong Utah resident Ruth Mahoney.
"I think it just takes thousands and thousands of hours of work and clever people and people that are willing to give their all. … It's one of the nicest parades in the country. We wouldn't miss it for anything," she said.
Mahoney, who is now 91, said she once sat through the entire parade even though when she was on the verge of having a baby. She now has 39 great- grandchildren, and relatives from all over the country are coming to town for Thursday's festivities.
More than 16,000 people came to the South Towne Expo Center in Sandy Monday to see 30 of the 50 Pioneer Day floats. This year's theme, "Pioneers Pushing Towards the Future," was represented creatively in each design.
The two-day event, which continues Tuesday, began in 2004 to accommodate people who are unable to go to the parade in Salt Lake City, parade co- chairwoman Jodene Smith said.
"It is mainly for the disabled or the handicapped or the mentally impaired, those that really couldn't sit long hours and wait for the parade on parade morning, that's how this came to be," Smith said.
Justin Rasmussen, 14, who drove with his family from Kearns, said that the idea of having a pre-party was "thoughtful." Monday marked the first time he has been able to see part of the parade so closely.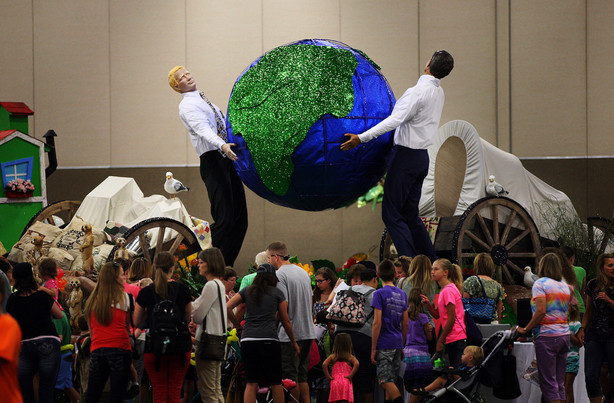 Michi Matsumori, who won't be going to the parade on Thursday because of a leg injury, also appreciated the chance to enjoy the floats with her family, regardless of her situation.
"We used to sleep out on the streets to go to the parade, but now, with the air-conditioning, we have a much better situation here," Matsumori said.
It took more than three cars to get Matsumori, her relatives and 14 children to the exhibition hall Monday. She said her family's favorite float featured a more than 8-foot tall, green and red-dotted Tyrannosaurus rex.
Chad Erekson, the float chairman for the LDS Midvale Utah Stake, began construction on the T-Rex float in February of 2013. The $4,100 masterpiece featured glitter, a moving head and an animated dinosaur roar.
"We were trying to think of what would represent a pioneer to us and pioneers are larger than life in a lot of ways. They were strong and tenacious, they had a lot of power, and we wanted something the kids would like so it turned into a Tyrannosaurus rex," he said.
Members of the LDS South Jordan Utah Stake took the theme in a completely different direction by creating a Dr. Seuss look-alike of Welfare Square. The colorful float was titled "Laying Up Stores for the Future."
Amy Parker, a committee member involved in the design process, said Welfare Square is an iconic symbol for Salt Lake City that many people associate with The Church of Jesus Christ of Latter-day Saints.
"We just felt like this is a good representation of what our church does. … We felt like on a worldwide international level, this is something the world can relate to with the LDS Church," Parker said.
---
Last year the theme was 'Pioneers Anchoring Towards our Future,' so out of 20 stakes there was probably 18 boats. This year, there is a real variety.
–Cindy Stanley, chairwoman of the Salt Lake Hunter Copperhill Stake float
---
Wal-Mart, Brigham Young University, the University of Utah and various cities in Utah also contributed to the vast array of floats. Visitors found themselves snapping pictures in front of ships, planes, handcarts and a variety of other sparkling, outdoor scenes.
Cindy Stanley, chairwoman of the Salt Lake Hunter Copperhill Stake float, was impressed with the variety of floats compared to last year.
"Last year the theme was 'Pioneers Anchoring Towards our Future,' so out of 20 stakes there was probably 18 boats. This year, there is a real variety," Stanley said.
She said her stake's float took more than 800 hours of work and that Thursday's parade will be an exciting culmination of many people's time and efforts.
The parade preview also included live band performances, concessions and animal balloon artists. For Utahns who want to avoid large crowds and the summer heat, the preview is a great way to get the parade vibe from a temperature-controlled venue.
The preview is just the start for the Days of '47 festivities that will continue throughout the rest of the week. Utahns can look forward to the Days of '47 Rodeo, the Deseret News Marathon and other road races, the LDS Tabernacle Sunrise Service performance and more.
Visit www.daysof47.com for more information.
×
Photos