LOS ANGELES, California — At least 20 percent of veterans who return from war suffer from post-traumatic stress disorder.
The biggest challenge is convincing them to seek treatment.
The University of Southern California's Institute for Creative Technologies has been working closely with the military to develop innovative strategies for treating PTSD using video game technology. The therapy also may help anyone dealing with trauma.
A convoy of Humvees drives down an Iraqi road, and suddenly IEDs begin to blow up. It is not a game but a series of scenarios developed around real experiences.
"The goal here is to really help the patient experience some moderate level of anxiety that their memories bring up, but to do it in a safe environment," said Albert Skip Rizzo, a research scientist at the institute.
For the past nine years it has been Rizzo's job to help recreate scenes from the battlefields of the Middle East. It's less the visual surroundings that make the experience realistic as it is sound and smell.
"We have bad smells, gun powder, rotting garbage, body odor," he said. "We know theoretically smell is intimate for emotion and memory."
ICT's virtual reality adds a new dimension to a process known as prolonged exposure therapy — an approach that's been around since the 1990s but not often used because people don't know about it.
Virtual exposure makes it harder for the individual to avoid their biggest fears.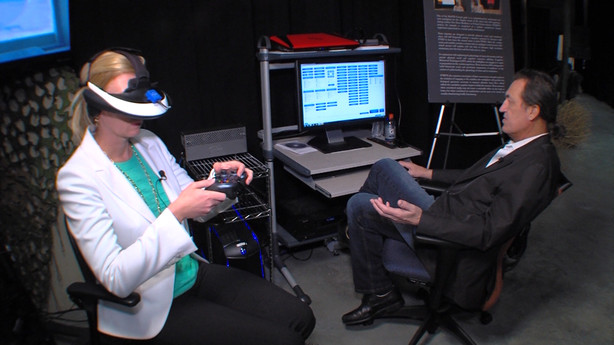 "I believe that this type of therapy ... may appeal to young service members that grew up with digital games that think, 'Oh, I'll give this treatment a try,' that would never (say that) to traditional treatment. That would be one group that we appeal to," he explained.
The therapy is currently available at 50 sites, including VA hospitals, military bases and university centers.
Rizzo's team also has created virtual resilience training for troops heading into war. The STRIVE project aims to create a set of simulations that are part of an interactive narrative.
"We have a mentor that pops up and delivers in that context looking over the dead body of a kid. How do you deal with this? How do you prepare for the unpreparable?" he said.
If there is anything positive about war, it does drive innovation, especially in medicine, rehabilitation and mental health. Prior to World War II psychology wasn't a treatment field.
"It was an assessment and research profession. It became a clinical profession to take the spill-over that psychiatry couldn't handle. The birth of clinical psychology came out of World War II," he said.
So did the National Institute of Mental Health.
"The NIH was created in 1946 by an executive order by Harry Truman to specifically address the challenges of combat neurosis," Rizzo said.
After the Vietnam War, PTSD finally became recognized as a clinical condition.
Testing the program
The effectiveness of the STRIVE training is currently being tested in a study conducted at Camp Pendleton in San Diego.

A group of Special Ops from Colorado also received the training before its deployment in December.
"Now these sets of wars, the new thing that will come out of this is recognition of this kind of technology," Rizzo said.
Technology that is customizable to fit not only the treatment of veterans but civilians, as well. The scenarios in Iraq and Afghanistan could be modified to look like the finish line of the Boston Marathon, for example.
"Maybe those people who would be hesitant to do talk therapy would say, 'Let me try that,'" Rizzo said.
He believes we need to create more things that will attract people to novel ways of healing, like a video game that helps people win back their life.
×
Photos