Estimated read time: 5-6 minutes
This archived news story is available only for your personal, non-commercial use. Information in the story may be outdated or superseded by additional information. Reading or replaying the story in its archived form does not constitute a republication of the story.
SALT LAKE CITY — In Utah, we are fortunate to have many places to kayak and canoe where we can enjoy the beauty of the water and scenery.
There are two types of kayaking. First, there is whitewater kayaking which uses power and skill to maneuver through a river full of rapids.
Second is calm water, recreational kayaking that requires less skill and is more easy going. Tourists and first timers typically prefer calm water kayaking for short or multi-day touring. It is also good for aerobic training.
Calm water kayaking is increasingly popular in lakes, oceans or ponds and is often called sea kayaking. Calm water kayaking is a great way to enjoy the scenic beauty and observe the wildlife of an area.
Kayaking is an exciting adventure for all ages and skill levels. There are several great places to kayak or canoe in Utah, but we recommend five places that stand out because of their beauty, simplicity or location.
Provo River
The Provo River is located in Provo Canyon below Mount Timpanogos. It provides quicker whitewater rafting. The rapids aren't big, but are sometimes stacked almost on top of each other. The beauty of the canyon also adds to the experience.
Most trips on the Provo River last from one to two hours depending on water levels. You may bring your own kayak or rent kayaks. Guided and unguided trips are available along the river too, although reservations are helpful.
You can get to Provo Canyon Road, which runs along the river through the canyon, from 800 North in Orem or by driving on University Avenue in Provo and Orem.
Bear Lake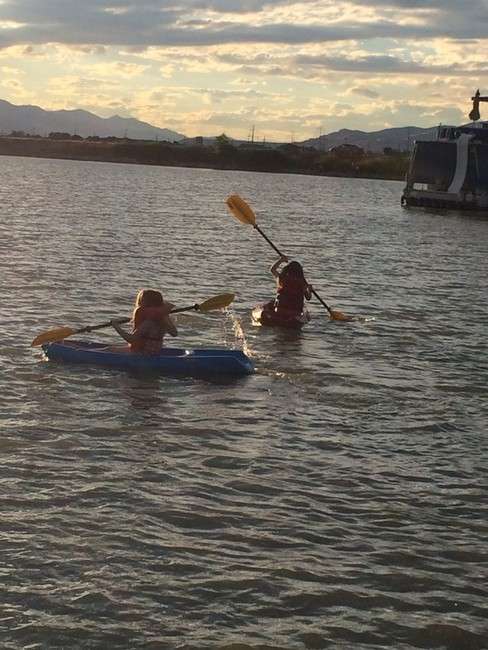 Bear Lake boasts some of the most beautiful blue water in Utah. Sea kayaking is extremely popular here. There are several rental places in Garden City and along the Bear River coastlines. You may also bring your own kayaks.
Rendevous Beach on the south end of the lake and just of north of Laketown is a popular, public area to kayak. Another favorite location for many locals is North Beach in Idaho. This beach stretches for almost the entire north end of the lake and provides warmer waters and a grand shoreline and boat ramp.
Bear Lake is on the Utah/Idaho border and is 52 minute drive from Logan. Bear Lake Boulevard travels along and around the lake. There are several inlets to lauch a kayak or canoe. Kayaking on Bear Lake can take only a few hours or all day depending on your schedule or rental.
Utah Lake
Utah Lake provides calm water recreational kayaking. You can bring your own kayak or rent one at the Lindon Marina. The Lindon Marina, located just off 2000 West in Orem, is hidden and secluded. Other places to launch your own kayaks include the Provo Marina, American Fork Marina and Saratoga Springs Marina.
Utah Lake is more shallow than many of the lakes in Utah, but provides a central place for beginners to learn and enjoy. Like Bear Lake, the time you spend kayaking at Utah Lake will depend on you.
Moab Area
The Colorado River provides both white water kayaking and calm water kayaking. You can bring your own canoe or kayak or you can arrange to rent one from many of the outfitters along the Colorado River.
The Moab area has many options for kayaking. Some areas are mild like the Fisher Towers Section of the Colorado River, which provides a scenic rafting trip suitable for the entire family. Fisher Towers launches at Hittle Bottoms, which is 29 miles northeast of Moab. The full Fisher Towers section includes five fun rapids and runs 13 miles and can take up to two days if desired.
Other areas, such as Cataract Canyons, are more wild and suited for experienced kayakers. Cataract Canyons launches in Moab and continues down the Colorado River and through the confluence of the Green and Colorado River. It ends at the Hite Marina at Lake Powell. This longer trip takes three to six days and is full of geological beauty.
Lake Powell
With Lake Powell's extensive shoreline and many canyons, calm water kayaking is an adventure of exploration and beauty. You may bring your own kayak or Lake Powell has many places to rent kayaks as well. Kayaking in Lake Powell can take several hours, days or could even be a nice weeklong trip.
There are several places to launch at Lake Powell. Glen Canyon National Recreation Area is busy, but great. Bullfrog Marian and Halls Crossing are directly across the lake from each other and are easily accessible. However, Antelope Point Marina, located approximately 5 miles uplake from Glen Canyon Dam on Highway 98 in Arizona, seems to have less traffic.
In addition to the launch ramps, kayaks can easily be launched at the Glen Canyon primitive beach camping areas. Lone Rock Beach is especially popular and Stanton Creek is a good place to launch if you are in the Bullfrog area.
No matter where you decide to kayak, safety is important. Be sure to check with the marina, boat rental or visitor center for a current marine weather forecast. Thunderstorms producing high winds can come up suddenly in most areas of Utah. Also, let someone know where you are planning to explore and your approximate return time. Finally, be sure to have the safety equipment you need such as a personal floatation device, sunscreen, water and snacks.
Get out there and have fun exploring and experiencing Utah's waters.
---
Kim Patterson MBA is a Utah Realtor, mom and blogger who finds joy in exploring the unknown aspects of Utah. Find her ideas for fun in Utah at www.things2doinutah.com and her real estate discussions at www.kimpatterson.net
×
Photos
Related links
Related stories
Most recent Utah stories