This archived news story is available only for your personal, non-commercial use. Information in the story may be outdated or superseded by additional information. Reading or replaying the story in its archived form does not constitute a republication of the story.
Nigeria elimina a Bosnia con otra polémica arbitral (1-0)
No ha tenido suerte Bosnia Herzegovina en su primera participación en una fase final de una Copa Mundial de Fútbol. Un gol legal, mal anulado por el árbitro neozelandés Peter O'leary, y una ocasión de gol clara de Edin Dzeko en el último segundo del encuentro que se fue al palo, tras desviar el portero Vincent Eneyama con los pies, dejaron a los bosnios sin sumar al menos un punto. Los bosnios han quedado eliminados en el Grupo F tras perder por 1-0 ante Nigeria, que está con muchas posibilidades de ser el segundo en clasificar, con 4 puntos, tras Argentina, con los que se enfrentará en la última fecha.
El partido se decidió en jugadas puntuales, y en el acierto o error de los jugadores implicados, porque en cuanto a juego estuvo bastante parejo. En el minuto 11', tuvo la primera oportunidad Nigeria con fuerte disparo de Obi Mikel que salió desviado por poco. La respuesta vino en el 20' con el gol anulado a los bosnios por un inexistente fuera de juego de Dzeko, que batió a Eneyama tras recibir un gran pase de Zvjezdan Misimovic, que hubiera sido el 0-1 de Bosnia, y que no subió al marcador porque el árbitro neozelandés lo anuló, a instancias eróneas del juez de línea.
Nueve minutos más tarde, vino el tanto de los africanos, tras una gran jugada por derecha, de fuerza y velocidad, de Emmanuel Emenike que supera a su marca y da un pase atrás para que Peter Odemwingie, de primeras, rematara a bocajarro ante la salida de Asmir Begovic que nada pudo hacer para que Nigeria se adelantara con el 1-0, que fue definitivo. Esas dos fueron las jugadas del partido, porque se pasó de la posible ventaja bosnia a un encuentro donde las Águilas Negras se dedicaron a dormir el juego y guardar la ventaja conseguida, exponiendo sólo lo justo.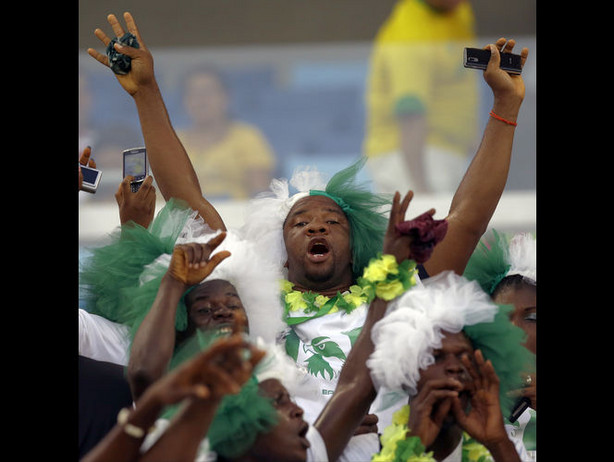 Así se llego al descanso, y así siguió en la segunda mitad. Se llegó a los últimos instantes del choque donde ambos equipos tuvieron ocasiones para sentenciar; dos por parte de Nigeria, y otras dos por los centroeuropeos, de Edin Dzeko, la primera de remate de cabeza y la segunda ya comentada a la media vuelta, que no entró tras pegar en el pie del arquero y en el palo; pero no se movió el 1-0 y Nigeria se llevó injustamente la victoria.
Periodista español especializado en deportes por más de 30 años. Twitter: @cartiles60
×