This archived news story is available only for your personal, non-commercial use. Information in the story may be outdated or superseded by additional information. Reading or replaying the story in its archived form does not constitute a republication of the story.
SALT LAKE CITY — Screeching tires, a loud thud and a mannequin's body flying through the air can be unnerving.
For dozens of police officers along the Wasatch Front, it was part of a class to help them in their investigations into auto-pedestrian accidents.
While determining where a crash occurred when two cars are involved is easy because there's always evidence on the road, Salt Lake City Sgt. Tom Potter said, but auto-pedestrian accidents are different.
"With pedestrian crashes, (the) pedestrian is wearing shoes. They don't necessarily leave the same types of marks," Potter said. "They are very subtle and are very often overlooked because we step over them to go where everything is at rest."
In an actual auto-pedestrian accident, officers only see the aftermath and have to work backward to determine what happened. During class, they got to see it all from the beginning.
"They're traumatic events. When we get out there, they're really difficult a lot of times because of the nature of the crash. Often things are overlooked because it's pretty horrific," Potter said. "This gives them a scene where we take the blood and all the gore away from it, and just focus on the investigative skill necessary to resolve the case."
During the demonstrations, the vehicles were wired up with cameras and sensors. Cameras were also on the ground and in the air capturing the crash from all angles.
"Typically, most people focus (on) where everything comes to rest, which is not where the collision occurs," Potter said. "So we want them to identify where the point of impact was, specifically when we start dealing with crosswalks, or people in or out of a crosswalk. Where they came to rest is not where they were struck, so this helps them pinpoint how far back they actually have to look from where everything comes to a stop."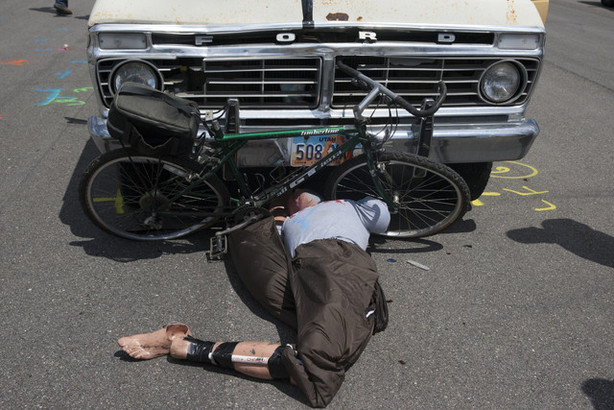 Once the simulated accident settled, officers converged on the vehicle, marking its location and documenting damage. Salt Lake police reconstructionist Tim Stumm checked the body position on the ground. Cuts, scrapes, even bits of glass can all help provide information.
"Then from that information we can start getting speeds of the pedestrian and then find out how fast the vehicle was going," Stumm said.
Simulations also included collisions with a bicyclist and a person in a wheelchair.
Accident investigations can take weeks and sometimes months before they are resolved. Such classes can help improve the accuracy in determining what actually happened.
"We're going to collect and compile all this data, and it will be shared statewide with investigators, and they'll have that testing to refer back to when they have this type of a crash," Potter said.
Contributing: Viviane Vo-Duc
×
Photos
Related Stories