This archived news story is available only for your personal, non-commercial use. Information in the story may be outdated or superseded by additional information. Reading or replaying the story in its archived form does not constitute a republication of the story.
SALT LAKE CITY — In August 2014, hundreds of triathletes will accept the Utah Doxa Threelay challenge, a two-day team triathlon spanning 270 miles from Duschene to Price. They'll compete in teams of 12, six, or for the truly brave, three athletes.
James Player, however, will take on all the other teams by himself. He's so confident, he's offered a reward for any team that can beat him.
Founders of the Doxa Threelay — a progressive relay similar to RAGNAR but involving biking and swimming in addition to running — thought they'd created the perfect event. Each athlete could adapt his or her team to their own skill level, making it accessible and appealing to multiple levels of athletes. Then they met Player at the St. George Marathon.
"He immediately expressed interest in doing the entire relay by himself," said James Andersen, one of the Doxa founders. "At first we laughed at the idea of one person doing a 270-mile triathlon, but once he informed us of his experience in extreme endurance races, things got serious.
"Realizing that there are extreme endurance athletes out there looking for the next challenge, we decided that the individual 'Doxa Man' option needed to be added to the menu," he said.
Doxa means "glory" in Greek. Few understand the meaning of the word better than Player. A U.S. Navy veteran who served in Desert Storm and father of four, the Sacramento man has competed over a hundred times. His accomplishments include 24 marathons, including the Boston Marathon, six Iron Man events, and two Ultraman triathlon. In June 2013, he completed the Western States 100-mile endurance run in 107-degree weather.
"I threw up 36 times. Yes, I counted," Player said. "The climax of 100-mile races is when all physical, mental, emotional and spiritual energy is exhausted and you find yourself on the side of the trail in the darkest of places. Then somehow you talk yourself into getting out of this fetal position and put one foot in front of the other. That internal struggle builds character like no other."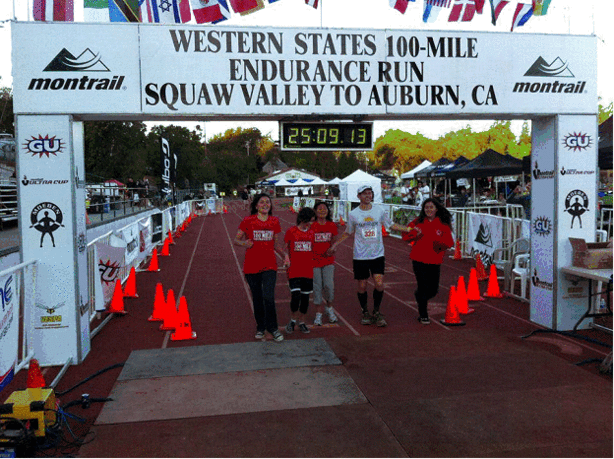 It is that internal struggle, it seems, that draws Player to Utah in August. During the 35-second window allowed each team to "hand off," or transition to the next team member, Player will have to change his shoes, wetsuit, or clothing and then plunge into the race again.
"(The transitions) will be a tough challenge," he said. "I expect they'll have a 90-minute advantage over me, so I'll have to make it up somewhere on the bike or run."
Despite the disadvantage, Player is so confident that he has offered $100 in free Power Bar product to any team that beats him.
"I love setting goals and achieving them. I thrive on challenges. Just tell me I can't do something," he said. "There is always something new to learn or experience."
Player looks forward to visiting the Beehive State again. He went to Kennedy Junior High in West Valley City as a child.
"Our family loves Utah," Player said. "We've been back to visit almost every year. I've done a lot of events in Utah and plan on doing many more. It's one of the few states that seem to make a special effort to hold events on Saturdays. We have family and friends throughout the state and have visited many of the national parks."
Above all, there's one thing Player hopes to gain from his trip to Utah: "I like to learn new things and enjoy making new memories," he said.
---
Rebecca has written for Schooled Magazine, KSL.com, Provo Daily Herald and Deseret News. She is also the author of "How to Have Peace When You're Falling to Pieces," an inspirational book for mothers.
×
Photos
Related Links
Related Stories