This story is sponsored by Xfinity. The most On Demand TV shows and movies, on TV and streaming online.
From checking your banking balance to booking your connecting flight to monitoring on your home security system, you're life tends to run on the World Wide Web. Being caught without Internet access can be a bit like getting stuck a good two decades in the past.
Luckily, wireless hotspots are becoming more and more prevalent — especially in and around the Salt Lake valley. In fact, Comcast, the nation's largest provider of residential Internet service, just reached a whopping 47,000 Xfinity WiFi locations along the Wasatch Front.
How do you make the most of these hotspots? Well, for starters, get rid of the idea that hotspots are for checking email and social media posts (though they're certainly perfect for that, too). Hotspots can actually help change — or, rather, help run — your life.
Get some work done
Make a coffee shop, shopping mall or even a neighborhood park an extension of your office by using a mobile hotspot. Now, there's no need to let your flat tire, canceled flight or sick nanny interfere with your 9-to-5.
Monitor the house
These days, many home security systems allow you to monitor your home online. But when you're traveling, Internet access can be tough to come by. That's why wireless hotspots are perfect for a quickly checking in on your home — then getting straight back into vacation mode.
Check the scores
Without a television in sight, many sports enthusiasts may just lose their sanity. Instead of gritting your teeth through a wedding reception while wondering what happened in NBA finals, do yourself a favor and find a nearby hotspot where you can not only view the results, but relive the action of the actual game.
Bank on the go
There's nothing like realizing you haven't paid your credit card until the day its due — and thanks to mobile hotspots, you may actually be able to do something about it. Americans are banking online more than ever. In fact, according to Pew Research, 51 percent of all U.S. adults bank primarily online. Whether you're paying a bill, transferring funds or just checking your account balance, a wireless hotspot may be the quickest way to get you in the know.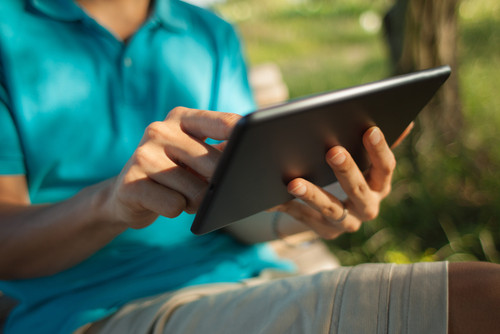 Catch up with friends
Forget about email; with access to a mobile hotspot, communication is two- sided. Use a number of apps to chat with friends via text message, or place a voice or video call using Skype, FaceTime or a number of other Internet services.
Shop around
With a mobile hotspot, it's as easy to get those designer jeans while sitting at a park as it is braving the crowds at the mall. Americans are quickly realizing the convenience and ease of online shopping. In fact, the 2013 holiday season marked the first in which consumers planned to do more shopping online that at traditional brick-and-mortar stores, according to a Deloitte study. And of course it's not just about designer jeans: Shop for home services, book haircuts and massages, and even plan your dream vacation — all from the comfort of your favorite hotspot.


×