Estimated read time: 3-4 minutes
This archived news story is available only for your personal, non-commercial use. Information in the story may be outdated or superseded by additional information. Reading or replaying the story in its archived form does not constitute a republication of the story.
HEBER CITY — A fully restored B-25 celebrated its 70th birthday Monday after landing at Russ McDonald Field for the start of a weeklong visit.
Onlookers sang "Happy Birthday" to the plane — lovingly dubbed "Maid in the Shade" — after its Arizona Commemorative Air Force crew taxied to a stop on the airport apron.
"I guess we'll have some cake and ice cream later," pilot Russ Gilmore joked after climbing down from the cockpit.
The U.S. Army Air Force took possession of the B-25 that would become "Maid in the Shade" on June 9, 1944. Several months later, the versatile aircraft was based on the island of Corsica and had flown the first of its 15 combat missions over Italy and Romania.
"It does have some repaired bullet holes in it," Gilmore said. "It went on some pretty hairy missions. It went out as a flight of four and was the only one to come back."
Gilmore serves as operations officer for the Arizona Commemorative Air Force's air base. It took the group's volunteers 28 years to restore the "warbird" that he flies all over the country.
"We love touring our B-17 and our B-25 to honor the veterans that fought for our freedom in World War II," he said. "We never want to forget the sacrifices they made for our freedom."
Rhoda Ramsey's late husband, Thomas Upton "Uppy" Ramsey, was one of those veterans, piloting a B-25 over Europe, the Mediterranean and North Africa.
"He ended up flying 54 missions out of England," Rhoda Ramsey said, surrounded Monday by some of her children, grandchildren and great- grandchildren as they walked around "Maid in the Shade."
"That was quite a record," Rhoda Ramsey added, "but he loved every minute of it."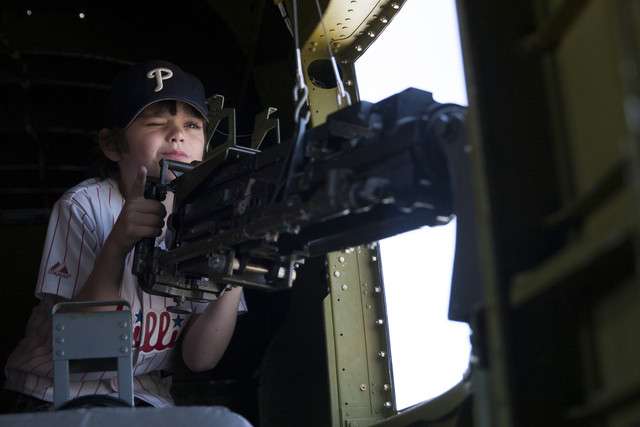 Ramsey's husband was shot down over the Mediterranean. He floated in the sea for several hours before being rescued by the British and returning to combat. On Monday, his son Tom Ramsey climbed into a B-25 cockpit for a quick flight around the Heber Valley.
"I can't believe how small it is up there," he said after the flight. "It's just amazing that those guys flew like that all over Europe and did all that for hours. Just, wow! It was awesome!"
For Rhoda Ramsey there's a sense of satisfaction in seeing the B-25 roll down the runway again.
"It means a lot to me just to know that that was the type of plane that he flew," she said, "and kind of sentimental to know what they went through. The young people need to know about this."
"Maid in the Shade" and several other World War II planes will be on display at Russ McDonald Field in Heber City through Sunday. Tours and flights are available for a fee from 9 a.m. to 6 p.m. daily.
Other activities include a big band swing dance Friday night, a pancake breakfast Saturday morning, and World War II re-enactments on Saturday and Sunday. For more information, call 435-671-6441.
×
Photos
Related stories
Most recent Utah stories