SALT LAKE CITY — In case you haven't heard, Friday is national doughnut day.
For the many in Utah queuing up to get their fill of celebratory doughnuts, we've compiled a list of our favorite doughnuts in the Salt Lake and Utah valleys.
Best Cruller
Day's Market in Provo is a hidden gem on Canyon Road.
The grocery store's bakery turns out some of the best crullers in Utah, too. The often overlooked eggy doughnut has a tendency to be dry or flavorless; not so at Day's. The bakery's scalloped crullers are perfectly moist and custardy tasting. Try the chocolate-glazed cruller with sprinkles.
3121 N. Canyon Road, Provo 801-375-7960
Best filled
Schmidt's Bakery is a long-standing favorite in Salt Lake City.
While normally we pick up a pastry or cookie there, Schmidt's also serves some seriously delicious raspberry-filled, powder-sugar coated doughnuts. While some fruit filling can taste processed or have the consistency of gelatin, Schmidt's doughnut filling tastes straight out of a jar of homemade jam.
609 E. 2100 South, SLC 801-487-3500
Runner up: Day's Mango Tango, a tropical twist with filling that tastes like it's made straight from fresh fruit.
Best classic cake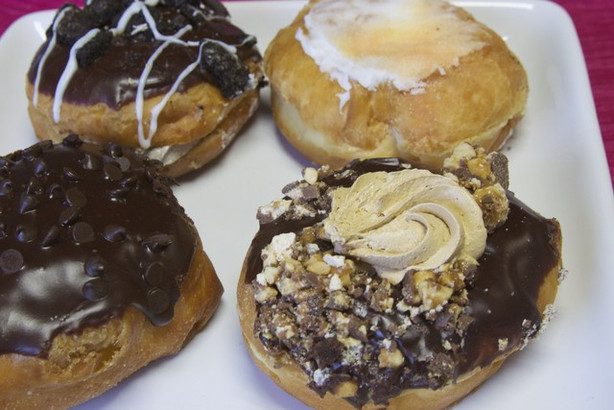 Provo Bakery's buttermilk bar offers a more sophisticated flavor than your typical cake doughnut. The buttermilk's tang complements the sweet glaze, and the bar's density stretches the experience over a longer period of time than your round doughnut. Eat one half now and one half later or share with a friend.
190 E. 100 North, Provo 801-375-8330
Runner up: Fresh Donut and Deli's chocolate with chocolate glaze and sprinkles
Best classic raised
Banbury Cross Doughnuts are a nostalgic experience. To people across Utah, the yellow box with burgundy rocking horses means quality. Plus, the KSL newsroom basically lives on the nostalgic treats. Banbury's glazed — from plain glaze to strawberry with real strawberry, maple or chocolate — are fluffy with the perfect amount of yeast flavor.
705 S. 700 East, Salt Lake City 801-537-1433
Runner up: Daylight doughnuts glazed or maple.
Most creative
Beyond Glaze serves up gourmet doughnuts from multiple locations. Its creative flavors, including strawberry mango, cookies and cream, bacon maple and chocolate ganache, push the idea of what doughnuts taste like. The raspberry cream is a blend of tart, creaminess and sweet.
While the doughnuts are priced higher than other doughnut shops, the treats are not made with any preservatives and quality ingredients.
177 W. 12300 South, Draper 801-571-2309
Runner up: Lehi Bakery's Long John. You have to get there early to score one of these custard-filled, eclair-like doughnuts, but they are delicious.
×
Photos
Related Links
Related Stories