PROVO — Three months after tearing his ACL in the West Coast Conference Tournament in Las Vegas, BYU guard Kyle Collinsworth is feeling very positive about his future on the court.
Things didn't look so bright, however, back on March 11 as the Cougars faced Gonzaga in the WCC title game. A routine rebound with less than 14 minutes remaining in the game left Collinsworth in pain on the floor and the team wondering if they had lost one of their best players right before the NCAA Tournament.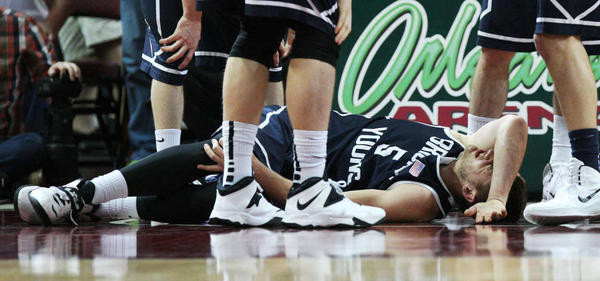 "Unfortunately as soon as I planted my foot, when I stepped, I knew something was wrong and I knew it was serious," said Collinsworth. "I had thoughts maybe it's not, maybe I'll catch a break, but the pain level was so high I knew it had to be something serious."
Not only did Collinsworth have to deal with the disappointment of having his season come to an end due to injury, he had to sit on his couch in Utah County and watch his teammates lose to Oregon in the second round of the NCAA Tournament.
"It was super tough," Collinsworth said. "First off, I wanted to be there with my guys and be out there with them (and) watch them play. Just not to be able to be a part of that game; I played in every game except that one. It was a tough situation."
Collinsworth underwent surgery to repair his ACL on March 18. Before the doctors came in to explain his recovery process, Collinsworth was expecting to hear it would take at least eight months. To his surprise and delight, the doctors told him that he should expect six months of recovery time.
With half of that time already passed, Collinsworth is slowly able to do more and more activity.
"(I'm) two weeks away from being able to run. So right now I'm doing a lot of biking, swimming, lifting weights, just set-shooting; I can't jump yet."
Getting back into basketball shape is nothing new for the 6'6" guard. Collinsworth spent the five months prior to the start of the 2013-2014 season working his way back into shape after returning home from his LDS mission to Vladivostok, Russia.
Collinsworth believes that the habits he learned last year will help him in the process of rehabbing his knee. Even though he believes he's ahead of schedule, Collinsworth knows that he can't push things too far.
"I just have to be patient. The biggest focus I have right now is focusing on what I can do, because there's a lot of can'ts; I can make a huge list."
Collinsworth proved to be a jack-of-all-trades for BYU this past season. Not only did he average 14 points per game, second only to Tyler Haws, he also led the Cougars in rebounding (8.1) and assists (4.6). Playing such an integral part in the Cougars' success, you might think that there would be pressure to come back; Collinsworth said he doesn't feel any.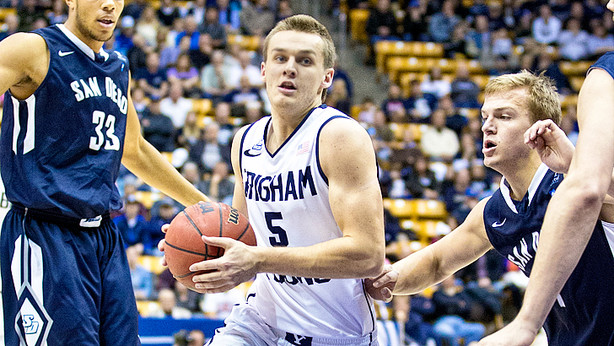 "I don't feel pressure, but I have a goal (that) I want to be back for the first game. Obviously, at the end of the day I have to put my career first and people understand that. I'll be smart but that's my goal to be back."
When Collinsworth does return to the court, the Cougars will look quite a bit different from last season. Center Eric Mika and guard Matt Carlino are both gone. Mika is in Rome serving an LDS mission and Carlino has transferred to Marquette.
BYU will add guard Chase Fischer, who sat out last season after transferring from Wake Forest, as well as redshirt freshman center Isaac Neilson, and freshmen Dalton Nixon and Ryan Andrus. The Cougars will also have sophomore Jamal Aytes, although he is not eligible to play until late December.
Despite all the changes, Collinsworth has high expectations for the 2014-2015 BYU basketball season. In fact, he wants the team to be known as the top dog.
"I want us to be the team to beat. I want everyone to know that in order for them to win the championship, they have to beat us — because that's the goal."
A healthy Kyle Collinsworth will go a long way towards BYU's hopes of a championship season. When asked if there was any doubt in his mind that he would be ready for the start of the season, Collinsworth said, "No doubt."
×