Estimated read time: 2-3 minutes
This archived news story is available only for your personal, non-commercial use. Information in the story may be outdated or superseded by additional information. Reading or replaying the story in its archived form does not constitute a republication of the story.
DAVIS COUNTY — A Utah woman gave birth to a baby girl while guided by an unlikely deliverer — a 911 dispatcher.
Little Eden is a pretty calm baby, but it's a quality she didn't get from her parents during the earliest moments of the infant's life.
"It was quite the experience — one we will never forget, even if I tried," father Greg Senkel said. "
Senkel was driving south on I-15 on May 17, screaming into the phone at a 911 dispatcher, while frantically looking for a spot to pull over in southern Davis County near mile marker 314.
His wife, Rebecca, wasn't calm either, because she was delivering in the passenger seat.
"I was like, 'Greg! I think I can feel the head coming out,' " Rebecca said.
"The next contraction, the rest of her is out."
Greg Senkel said he held it together as he thought his wife was about to go into labor. But when she finally went into labor, he lost his composure.
"I was pretty OK, until I saw the baby's head," he said. "And when I saw the baby's head between her legs and her pants weren't even completely off … I was not OK at that point."
It's a good thing dispatcher Amy Woodall was just a phone call away, able to give the husband emergency instructions.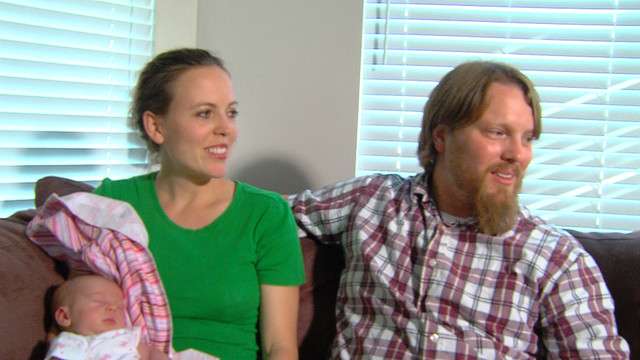 "OK, OK. Sir, I need you to remain calm," Greg said as he recalled Woodall's instructions. "Do you have anything to tie off the umbilical cord."
Greg didn't know his running shoes would come in handy. The couples' older daughter Kiara helped to free a shoelace from his shoe to perform triage. Greg then took off his shirt and wrapped the baby in it.
Emergency crews arrived on the scene shortly thereafter.
Dispatchers said they get a few of these calls every year. Most parents are stressed out, and some can't even recount where they are, which is the worst scenario, according to Cherie Pickett, lead communications officer for the Bountiful police department.
"In an ideal world, they answer the questions and you're able to move on," Pickett said.
The Senkels are thankful the dispatcher and responders were cool under pressure during the craziest ride of their lives — especially when the parents were not.
"They really helped control the situation and really helped us be a successful birth," Greg said. "It was pretty stressful."
×
Photos
Related stories
Most recent Utah stories