Estimated read time: 4-5 minutes
This archived news story is available only for your personal, non-commercial use. Information in the story may be outdated or superseded by additional information. Reading or replaying the story in its archived form does not constitute a republication of the story.
SALT LAKE CITY — People fortunate enough to have roofs over their heads and ample food to eat likely do not understand what it is like to be homeless.
Fewer yet can conceive what it is like to be a homeless youth.
Lesly Beck, a volunteer at Volunteers of America - Utah's Homeless Youth Resource Center and a master's degree candidate at Westminster College, has developed an innovative public art project intended to raise public awareness about homeless youth and at the same time help them develop self-esteem and a sense of identity.
This week, Beck, volunteer artists and homeless youth themselves are painting murals depicting different aspects of the lives of homeless youth on nine pillars beneath a highway off ramp at 600 W. 600 South.
The goal of the 9 Pillars Project is to engage homeless youth in a collaborative art project that allows them to safely express themselves and help inform the public about various aspects of their lives, Beck said.
"People don't really get it. People don't understand how complex this population is," she said.
Beck, who is completing a masters of arts in community leadership, said the project is the underpinning of her master's thesis. The logistics of obtaining permission from the Utah Department of Transportation was an education in itself, although over time, she developed a good working relationship with the agency, Beck said.
Beck was on track to use her degree in an arts administration capacity "but I got really sidetracked with how art can transform the lives of homeless youth," she said.
Building self-esteem and a sense of identity help youth become more resilient. That resiliency can help youth better cope with living on the streets or take steps to enter supportive housing, complete their education or find work, she said.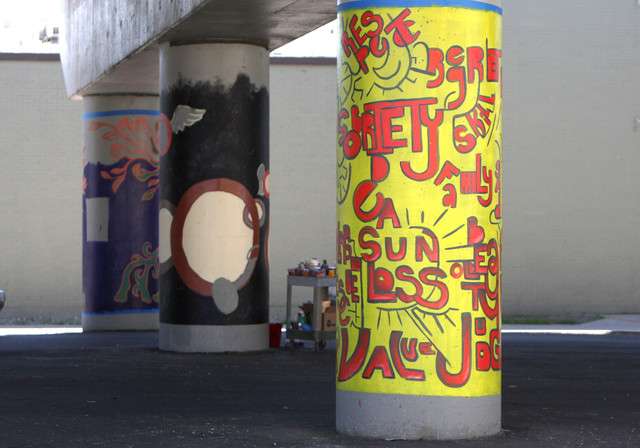 Exact numbers of homeless youth in Salt Lake County are not known but nearly 1,000 people reached out to VOA-Utah for help last year. The direct service nonprofit organization provides street outreach and operates a drop-in day center and transition homes for young women and young men.
David Bailey, 21, who is living at VOA's newly opened Young Men's Transition Home, helped paint a pillar Tuesday depicting the theme "Believe in yourself."
The theme is apt, Bailey said, because homeless youth "are awesome in their own way."
The theme of each pillar, which were designed from input from homeless youth, touches on various aspects of their lives such. Some of the themes include "Justice," "Rock Bottom," "Community," "Peace" and "Resources."
Bailey said he wishes that the general public understood the multiple challenges that homeless youth face each day.
"I wish they knew how hard it is to get a job. You always hear that, 'Get a job' " he said. It's very difficult to find employment when a person does not have a place to live or adequate nourishment to work through the day, he said.
"It's more difficult for homeless people to do that," he said.
Shalene Thomas, 18, knows the challenges all too well. Her parents kicked her out of the house when she was 15 years old, she said. Initially, she stayed with people who were willing to take her in. "Eventually, I ran out of people to live with so I just lived outside," she said.
She called the winters "brutal. You don't know if you're going to wake up in the morning, honestly."
---
It's hard. You have to rely on yourself. There's no parental figure to help you.
–Shalene Thomas, 18
---
Thomas, who was also working on the "Believe in Yourself" mural, said sometimes, there is no other option but to become self-reliant.
"It's hard. You have to rely on yourself. There's no parental figure to help you," she said.
VOA Utah's Homeless Youth Resource Center has helped Thomas by providing food, helping her to prepare for her GED exam and find employment.
Thomas said she wanted to take part in the 9 Pillars Project after Palmer told her about it.
"I love art and expression. I'm his friend and I wanted to see if I could help out," she said.
Zachary Bale, VOA Utah's vice president of external relations, said the state, Salt Lake County and Salt Lake City stepped forward with funding after the loss of a grant forced the agency to cut hours of operation at its drop-in center.
The center is open office hours on weekdays and plans to also open on Saturdays and has been able to rehire staff who were let go when it lost funding.
Meanwhile, plans are moving forward for a new center at 888 S. 400 West, which will provide emergency shelter for homeless youth. VOA has received a conditional use permit from Salt Lake City to build the facility.
Fundraising is ongoing, Bale said.
Contributing: Devon Dolan
×
Photos
Related Stories