This archived news story is available only for your personal, non-commercial use. Information in the story may be outdated or superseded by additional information. Reading or replaying the story in its archived form does not constitute a republication of the story.
SALT LAKE CITY — Benjamin Hunter, a second-year medical student at the University of Utah, said Friday that his first patient was a woman named Nancy.
Hunter said the things he learned from Nancy have had a lasting impression, like the day she taught him about the knee joint, exploring how the joint caps and ligaments came together to form a functional unit.
"I met Nancy in anatomy lab," he said. "She had died while she was in her 50s after a long fight with cancer. When Nancy was alive, she worked as a teacher, and I thought it was pretty special that she was able to continue to work as a teacher after she had passed away."
Nancy, whose last name is unknown to Hunter, donated her body to the University of Utah. On Friday, a special memorial and interment service was held at the Salt Lake City Cemetery to honor the 187 individuals who similarly donated their bodies to the school over the past year to advance medical education and research.
Hunter said the body donor program is invaluable for students who are able to turn theory into practice and academics into action in the school's anatomy lab. He said it is impossible to put a value on the benefit that students receive from individuals and families who choose to participate in the program.
"They brought a real sense of meaning and a sense of realness to the things that we learn in our textbooks and the things that we see in clinic," he said.
Roughly 300 family members gathered at the cemetery for the memorial service, which included remarks from university faculty and guests, musical numbers and full military honors.
Kerry Peterson, director of the body donor program, said the service has grown steadily since the practice was started 17 years ago. The event is intended to honor and thank the donors and their families and to let family members know of the value of their loved ones' gifts to medical education.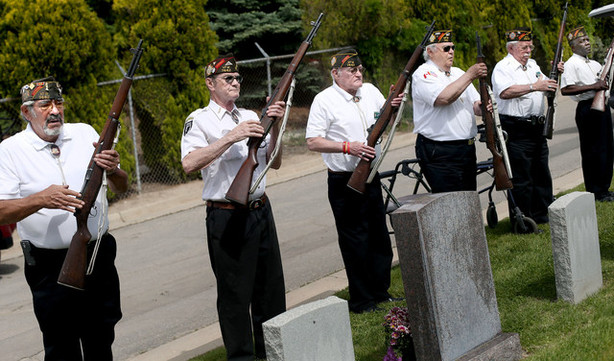 "When you're working on a hand, learning about the hand, you can't do so without wondering what task that hand had performed," Peterson said, "and when we run across diseased organs, it's hard to see that and not wonder what pain (they) had been in."
Orem resident Kayleen Sheppard attended the service wearing a shirt memorializing her sister Cyndee, who was diagnosed with lymphoma and passed away in February at age 53.
Sheppard said her sister made the decision to donate her body in the final hours of her life.
"I'm really proud that she made that decision," Sheppard said. "It's a wonderful memorial and idea to have this (event) for people who have made such a sacrifice so that science can work on problems and maybe find cures for things that we need to find cures for."
David Morton, an associate professor of neurobiology and anatomy at the U., expressed his appreciation to the family members present, adding that body donors teach students lessons that they never forget.
"When they come and we get a chance to work with your loved ones, we learn a lot of wonderful things from them," Morton said. "A university can not function without the generosity of its donors. That's why we have buildings and streets with their names on it, and your donors are a special type."
Contributing: Keith McCord
×
Photos
Related Stories