Estimated read time: 2-3 minutes
This archived news story is available only for your personal, non-commercial use. Information in the story may be outdated or superseded by additional information. Reading or replaying the story in its archived form does not constitute a republication of the story.
Richard Piatt reportingIt happens once every 16,000: a perfect score on the ACT test. The test is the most widely used college test, and in Utah this year, there were five students who scored that rare perfect "36."
A perfect score is a big deal, but two of the Utah students who aced the ACT are a little bit shy about it. They're getting a fair amount of attention over doing something they say they've always done: their best.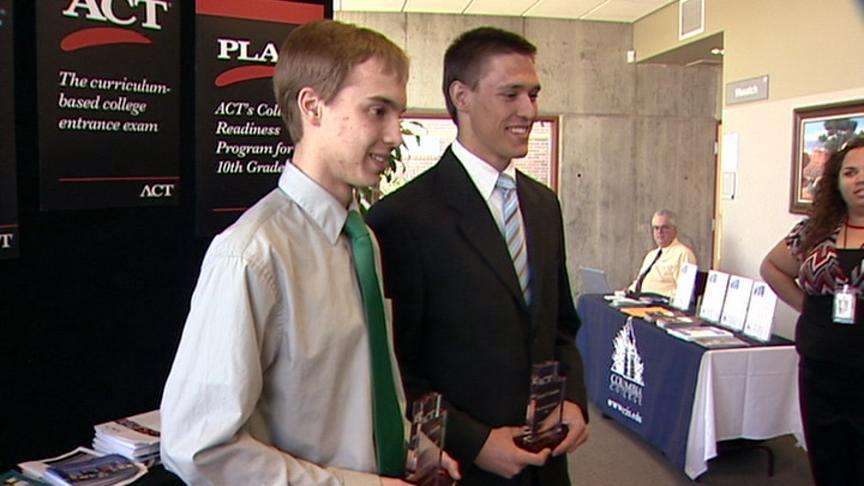 "I almost approach it with the same mindset: If I prepare for it, it will come a lot easier when it happens," said Jared Bruton.
Alex Hanson said he does well by, "Making sure I got everything right and being very thorough and accurate in answering all the questions."
Bruton, of Duchesne, and Hanson, of Taylorsville, are just two of the five who got a perfect ACT score. The test is a four-hour ordeal meant to challenge young people. High scores are, therefore, highly regarded.
"It recognizes, quite frankly, the achievement in the classroom as well as a college admission exam," explained Ernest Valdez, ACT regional manager.
These awards for Bruton and Hanson are the result of a lot of hard work and not a lot of work preparing for the test. It's the culmination of all the knowledge they've retained over the years.
"My family's TV died when I was about 4, and my parents decided they didn't want to get another one. And so, through childhood I read an average of about two to three hours a day," Bruton said.
Hanson said, "Most students, when they take classes in junior high and high school, it tends to be: retain the knowledge long enough to take the test and then end the school year. I've been able to pay attention and retain the knowledge through these years."
It isn't really a secret, it's more of a work ethic. It's a valuable lesson where school is only part of the picture.
The other three students achieving a 36 this year are: Daniel Posch, of Waterford High School in Sandy; Andy Dahl, of Logan High School; and Kimberly Richardson, of Weber High school in Ogden.
E-mail: rpiatt@ksl.com
×
Most recent Utah stories