This archived news story is available only for your personal, non-commercial use. Information in the story may be outdated or superseded by additional information. Reading or replaying the story in its archived form does not constitute a republication of the story.
SALT LAKE CITY — Chopper 5 landed at a school reading celebration that was an entire year in the making.
The dozens of tutors, business partners and community members there to cheer on the chopper showed the collective effort behind the accomplishment.
"It's just been a great year," said volunteer tutor Doris Williams.
Teachers at Roosevelt Elementary told students if they would work hard to meet their reading goals, the school would petition for a helicopter visit.
Kids read on their own and with their tutors from the Read Today AmeriCorps program. Nearby grocery store Smith's donated more than 2,000 books so students would have reading materials.
"It's given them the opportunity that they otherwise wouldn't have," said store employee Mike Lambros. "That's why we do it, for the kids."
Kids ended the year with improved reading scores, mood pencils and memories.
Similar, if less dramatic, year-end celebrations have taken place at several of the 125 schools that take part in KSL's Read Today AmeriCorps program.
Employees at Associated Foods held a potluck luncheon to celebrate their accomplishments. Tutors helped nearly three dozen children in three schools meet grade level in reading.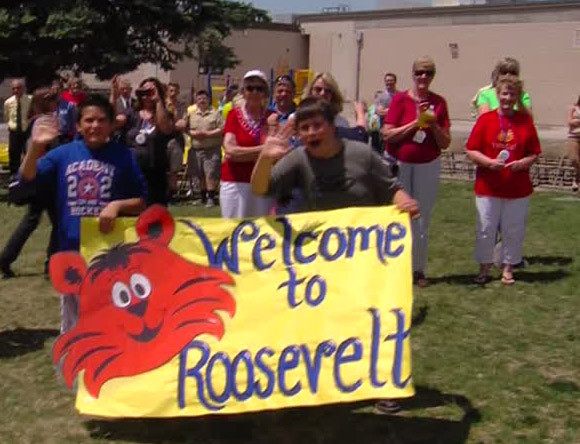 "Sometimes those teachers need a little extra help and if we can provide that for them, it's a great opportunity," said Associated Foods employee Lauri Rainey.
Employees at American First Credit Union held their final tutoring sessions also knowing every weekly hour spent with their students made a difference.
"Even though it's such a small amount of time, because it's only a half hour for each child, but it's setting a foundation for them for the rest of their lives," said America First Credit Union employee Julie Trujillo.
For employee David McKenzi, it showed the company's commitment to serve its community is genuine. Each week, employees spent part of their work day reading one-on-one with nearby elementary students.
"He got excited every time I came and he'd say at the end, 'Are we done already?'" said Mckenzi.
Get involved
If your company would like to help struggling readers this fall, go to Readtoday.com.
At Eagle Bay Elementary in Farmington, tutors from the Home Depot read with students in their trademark orange aprons. For them, it was an effort to get acquainted. Every Utah store has pledged to join the tutoring movement this fall.
"The statistics speak for themselves," said Home Depot Store Manager Derek Carver. "If a child is not able to read at an acceptable level by third grade, they're four times as likely to drop out of school."
More than 200 Utah companies have pledged to return with their army of employees to help struggling readers again in the fall. So for many of these volunteers, the end of the school year is the beginning of a long-term effort.
Thomas Burningham, with Associated Foods, noted,"there's already been a little bit of buzz in people wanting to join the effort."
×
Photos
Related Links