Estimated read time: 2-3 minutes
This archived news story is available only for your personal, non-commercial use. Information in the story may be outdated or superseded by additional information. Reading or replaying the story in its archived form does not constitute a republication of the story.
Tonya Papanikolas and Andrew Adams reportingA group of young men and women from a Sandy LDS ward were shocked to hear what happened to Hser Nay Moo because they had just seen the little girl last week. The youth of the Granite Ridge LDS ward in Sandy went to visit Hser Nay Moo's family.
Kim Newman, a friend of the victim's family, told us, "Our group went down, and we took cleaning supplies and fruit baskets and stuff to help them out."
While they were at the apartment complex, the young adults played tag with Hser Nay Moo, whom they describe as a ball of fire. "She was so cute, she was really friendly," Newman said. "She, like, wanted to play all these games, we didn't even know what they were."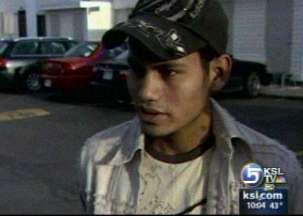 When the young women heard their friend had been murdered, they were stunned! "I was so heartbroken. It was so sad for me 'cause it's like I just met her and she's so little and cute," Newman said.
A woman at the church says Hser Nay Moo's two older brothers had befriended the man accused of killing her. Wednesday at the apartment complex, we spoke to suspect Esar Met's younger brother - who said Esar knew Hser Nay Moo through mutual friends. The brother, Harni Far, had not been told why Esar had been arrested.
Through an interpreter he told us, "He said over there he was the type of kid who didn't get in trouble. He didn't do anything wrong. He was just kind of a likable guy, never been to jail, never got in a fight with anybody."
He said Esar loves life and having a good time. "Esar, he liked to go play. He lived the single life. Like if he was somewhere at 2 in the morning, he'd sleep there. Just a play-it-by-ear kind of a kid."
Esar's brother said their family had lived in a refugee camp for about 16 years in Thailand. When they came to Utah, Esar was over 18, so he was placed in an apartment with other young men. But you won't believe where the rest of Esar's family lives; his brother said right now, they live with Hser Nay Moo's family.
E-mail: tpapanikolas@ksl.com
×
Most recent Utah stories