This archived news story is available only for your personal, non-commercial use. Information in the story may be outdated or superseded by additional information. Reading or replaying the story in its archived form does not constitute a republication of the story.
WILLARD, Box Elder County — A Utah beekeeper is dead after family members say she was stung by bees she kept in her backyard.
April Taylor, 31, was taking care of her beehive last Tuesday, wearing gloves and a veil, said her husband, Zak Taylor. She came back in the house with 30 to 40 stings, but she seemed fine, he said.
April Taylor then went back outside, and her husband later found her passed out on the ground. She was hospitalized and passed away Friday.
Zak Taylor said he believes his wife may have had an allergy to bees.
Bruce Vail, Zak Taylor's uncle, said family members are having a tough time believing what happened.
"We all started thinking, 'Well, how did this happen? … Killer bees or what? But I guess after she had got stung, her husband called the beekeeper, and he came and figured out there was no queen bee in the hive," Vail said. "He said if there's no queen bee in the hive, they get really protective of their hive and they just swarmed her."
Vail described April as a free spirit and someone everybody loved.
"You just never know when your time is up," he said. "It's just kind of sad."
She leaves behind a 6-year-old son.
Entomologists with the Utah Department of Agriculture and Food are taking a close look at the bees from the hive.
"Anytime someone is stung and passes away, that's a serious event," said Larry Lewis, with the Utah Department of Agriculture and Food. "We want to know exactly what happened and whether they were European honeybees, or Africanized, or any kind of percentage of Africanized bees. It's unlikely that it's Africanized."
Lewis said backyard bees are safe, but it's not an exact science.
"There are circumstances when things change that, as evident with this one, that there's a possibility of situations that might develop that turn out negatively," Lewis said.
Bees can be docile or aggressive, and they don't have to be Africanized to be aggressive, he said.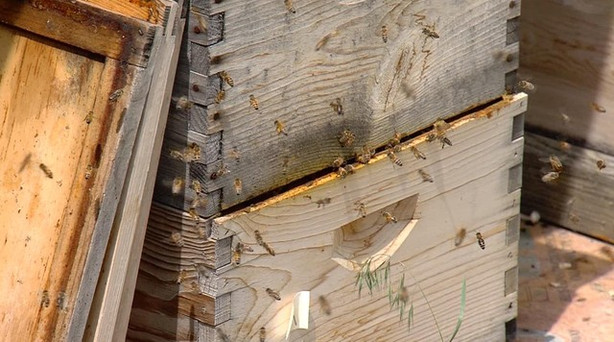 "We're not certain that this was an attack," Lewis said. "We feel this is a stinging event."
Exactly what happened is still to be determined, but the owner of The Honey Jar in Brigham City said he believes the hobby of beekeeping is safe.
"As with any hobby there is risk involved, especially when there's insects or animals involved," Kyle Kanno said. "But with every hobby, there's precautions you can take too to limit your risk. It's no more dangerous than skateboarding or riding a bike."
Kanno said it's important for beekeepers to wear protective gear.
"I always make sure that I wear a full beekeeping suit," he said. "I've got boots on that go up past the ankle. You do an inspection on your equipment to make sure that your veil doesn't have holes in it. We use gloves to minimize exposure on your hands."
Kanno said in the nine years he's been a beekeeper, he's been stung less than a dozen times, and on those occasions it was usually because he didn't take the precautions he should have.
"I still wear my full setup, just out of precaution," he said. "I'd urge any new beekeepers to not let their guard down too fast. Make sure that you're fully protected every time you go out. It's like wearing a helmet when you're riding a bike."
Lewis recommends Utah beekeepers license their hives with the state so they can get up-to-date information on changing conditions and things than can affect bees.
The investigation could take weeks to get conclusive information.
×
Photos
Related Links
Related Stories