Estimated read time: 4-5 minutes
This archived news story is available only for your personal, non-commercial use. Information in the story may be outdated or superseded by additional information. Reading or replaying the story in its archived form does not constitute a republication of the story.
SALT LAKE CITY — A family's endeavor to treat their toddler's fast-growing brain cancer has led them to apply for the emergency use of an investigational new drug.
Rachel, who will turn 2 in June, had a tumor the size of a small orange removed from her brain in January. Less than six weeks later, nine nodules had grown back in the same region as her original tumor, according to her mother Salem Thorup.
"We are hoping that (the) FDA will see Rachel as a person and not just a statistic or case and help us give her the treatment we strongly believe has the best chance of providing a favorable outcome," she said. "We trust that, if her case is communicated clearly enough, the FDA authorities will grant permission for the IND special exception."
Rachel's parents are working with Dr. Stanislaw Burzynski in Houston to apply for an emergency-use IND, or investigational new drug, so they can begin the alternative cancer treatment antineoplaston therapy. Antineoplastons a synthetic chemicals "made up mostly of peptides and amino acids originally taken from human blood and urine," according to the American Cancer Society.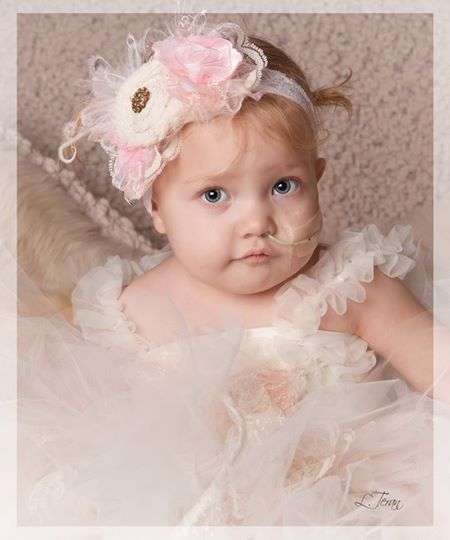 Even though there has not been a significant amount of data published about the effectiveness of antineoplatons, which have been used by Burzynski for decades, Thorup said she believes the preliminary data that is available makes it a treatment worth trying in Rachel's case.
Thorup and her husband were living in Arizona for a sustainable farming internship when they noticed Rachel's were eyes suddenly crossing in. They took her to the emergency room thinking she had a concussion, but since she did have any other apparent symptoms the family was told she was fine.
"We took her back home, but just had this feeling that something was really wrong," Thorup said.
The family's insurance provider was still in Utah, so Thorup returned to her home state to bring Rachel to the doctor. Less than 24 hours after arriving at the Primary Children's Hospital emergency room, Rachel went into surgery to remove a brain tumor. After the surgery, the family had move in with Thorup's parents in Utah.
Rachel was initially given a 30 percent chance of survival with conventional treatment, Thorup said. They were led to try Burzynski's alternative therapy after plans to receive a customized chemotherapy in Switzerland fell through.
"It's really urgent because while she has been doing well clinically, just a few days ago she started having some issues," Thorup said. "They were pretty mild, but within the last 24 hours she has thrown up a few times. It can take a turn downhill pretty quickly. ... Originally, it was a matter of a few days when she went from almost completely normal to just really lethargic, where she obviously had something really wrong with her."
---
It felt like a miracle that she even came into our family.
–Salem Thorup
---
The Thorup family hopes to receive an answer from the FDA this week.
Rachel is the youngest of three children and has a big personality with an infectious laugh, according to her mother. She said Rachel is not extremely social, but that if she ever thinks someone is hurt she wants to give them a hug and a kiss to comfort them, even if she doesn't know them.
Her mom also described her as a little farmer who loves dogs and farm animals. She said Rachel knows what she wants and is determined, bold and intelligent. One of her favorite things to do while battling cancer is sing along to "Frozen," her favorite movie.
"Rachel, throughout her existence on this earth, has really taught us to learn, and stretch and grow," Thorup said. "She has helped us understand and appreciate (our other children) Felicity and Patrick on more levels and to be better parents to them. My pregnancy and delivery with Rachel was my most difficult of the three, by far. It took us over three years of trying to get pregnant with Rachel. It felt like a miracle that she even came into our family. We are so blessed with each day that we get with her. We hope to have many, many more."
A fundraiser* has been set up to help cover Rachel's medical costs on Go Fund Me.
---
*KSL.com has not verified the accuracy of the information provided with respect to the account nor does KSL.com assure that the monies deposited to the account will be applied for the benefit of the persons named as beneficiaries. If you are considering a deposit to the account you should consult your own advisors and otherwise proceed at your own risk.
×
Photos
Related links
Most recent Utah stories