Estimated read time: 2-3 minutes
This archived news story is available only for your personal, non-commercial use. Information in the story may be outdated or superseded by additional information. Reading or replaying the story in its archived form does not constitute a republication of the story.
Alex Cabrero reportingChances are you or someone you know pulled a prank today, it's April Fools Day, after all.
We've all seen the packing peanuts in desk cubicles, or the computer keyboard and monitor in tin foil, but we've never seen what some workers did to a co-worker while he was on vacation.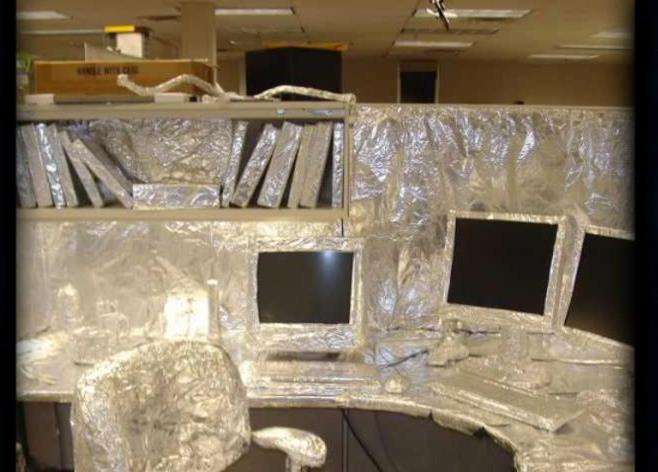 It takes imagination to pull off something like this, along with a little courage and probably permission from the office boss. And sometimes you just need plain old out-of-the-box creativity for a top-notch prank.

Some guys at Mrs. Fields cookies in Salt Lake had all those qualities, and then some. They've all researched the many office pranks you can find on the internet and pulled most of them on each other. But what they came up with for one worker's cubicle has been posted and viewed on the internet as almost the new standard by which all other cubicle-office pranks will be judged.

Stewart Douglas said, "Oh, I knew there would be something, but I had no idea to what scale." While Douglas was away on vacation, his co-workers began construction on his cubicle -- dry-wall, a light switch, a ceiling fan, mail box, flowers, a door bell, outside light, even shingles, turning his once boring cubicle into a one room house.

It's so good, Douglas doesn't plan on taking it down any time soon. How could he? "I don't think anything like this could ever be outdone," he says.

We wanted to interview the workers involved in the prank for our story, but Mrs. Fields corporate here in Salt Lake said they wouldn't allow it today. However, when we talked to the workers on the phone, they said it will be hard to top this prank.

E-mail: acabrero@ksl.com

×
Most recent Utah stories