Estimated read time: 2-3 minutes
This archived news story is available only for your personal, non-commercial use. Information in the story may be outdated or superseded by additional information. Reading or replaying the story in its archived form does not constitute a republication of the story.
Jed Boal reportingTens of thousands of U.S. soldiers have come home from the wars in Iraq and Afghanistan seriously injured.
Many return with easily visible wounds, others are permanently disabled in ways that are more difficult to see.
One such Utah soldier was honored today.
Sgt. 1st Class Gordon Ewell paid a dear price for his service in Iraq with the Utah National Guard. He said, "It'll help close the chapter on my wounds and help the healing to start,"
Ewell came home to his family in Eagle Mountain a year ago with traumatic brain injury (TBI). Today his country honored him with a Purple Heart for his combat injuries.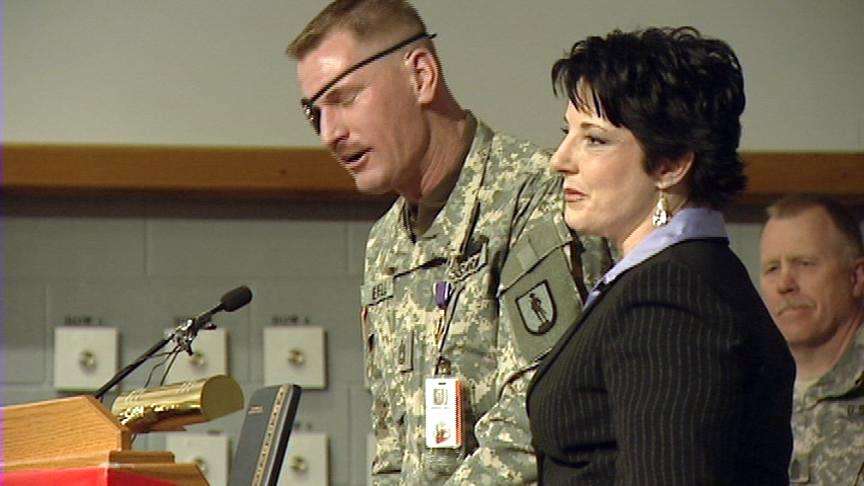 Until recently, if the soldier had no visible wounds, there was little recognition. Maj. Gen. Brian Tarbet, with the Utah National Guard, said, "Be grateful to those soldiers in your unit who went to bat for you and who forced the Army, at long last, to recognize the sacrifice you made on our behalf."
The guardsman completed 59 combat missions in Iraq as an intelligence specialist on roadside bombs. On six occasions, Ewell's vehicles took direct hits, and repeated concussions took a toll. The injury upsets his memory, motor skills and balance. Ewell is legally deaf and blind, and he takes a lot of falls. The honor means a lot. He said, "It will help aid my healing and is something I will cherish."
According to the U.S. Department of Defense, 30,000 U.S. soldiers have been injured in Iraq, more than 200 are from Utah.
Because of the path paved by Ewell and his supporters, nine other Utahns and many more Americans may get their recognition too. Ewell said, "This award means so much to me and my family and will help us look forward and look to the future."
Later this spring, Ewell and his family will move into a new one-level home in Eagle Mountain, which is a safer environment for his needs.
The home is provided by Home for a Hero with no financial burden for the family.
×
Most recent Utah stories