SALT LAKE CITY — Like many, Meggie Highland moved to Utah for school. She planned on putting in her four years, then getting out and moving to a bustling, impressive big city.
But life had other plans.
She got married right before graduating from BYU with a degree in industrial design, and when her husband finished up his own education, he landed a job in Utah, to Highland's dismay. Her approach while at school was to stay separated from Utah culture — always having planned to leave.
"I didn't know a lot about Utah outside of Provo, and there's some quirkiness to Provo," Highland said. "I felt like you had people that were kind of cookie cutter, in my mind, or people that were just so polar opposite that they just were like, 'I have to break out of this Utah type.' "
Highland said she was ready to explore a new city, somewhere that had a great mix of design and culture and food and outdoor life, with a good balance of political views. She was unhappy about staying in Utah.
"Then I realized I was just being really immature," Highland said. "I thought, this is a cool place and I need to embrace it and enjoy it more and have my eyes opened to the coolness in Utah. I wanted to have that state pride and show it off a little bit."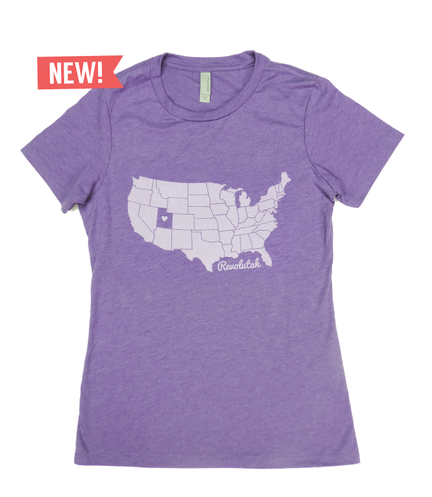 In her search for wearable state pride, she came across mostly touristy junk that didn't impress her keen designer's eye. So she decided to make her own.
"It's Utah loving Utah," Highland said of Revolutah, her innovative Utah pride clothing company.
The soft shirts feature water-based ink designs that celebrate Utah. They are all made by the "one woman show" that is Highland — with a little bit of help from her husband. Each sale donates 20 percent to local charities. Highland chose the Road Home, the Best Friends Animal Society and the Food and Care Coalition to give back to.
"I chose those that had the type of setup I appreciate in charities — a hand-up-type concept," Highland said. "It's not just a handout, it's more like helping people getting back into life and being independent. It seemed like they did the most good with the resources they had."
She would love to have specific shirts dedicated to a related charity — like her Earth Day shirt, which donated 20 percent to the Nature Conservancy's Utah chapter.
"I love Boston and Denver and San Francisco — they all have kind of their vibe," Highland said. "For me, I think what was missing was, what's Utah's vibe? I think it's still developing a little bit, so I think it has things that makes it unique, and that I think is going to be what makes it stand out more than trying to be like (another) city."
×
Related Links
Related Stories