This story is sponsored by KSL Deals.
There are loads of fun things to do in the summer in Utah.
Some things cost a coin or two. Some are free if you don't count bringing a bottle of water and some serious enthusiasm.
Make a big splash
Cowabunga Bay in Draper has the latest and greatest in water adventures. Jet down the Bonzai super slide or the high-speed Mondo enclosed slide. Or take it easy while floating the 400-foot moving river. It's a family friendly environment with more than 300 interactive water features including a two-lane racing slide and two tipping buckets. Check out discount packages here and here.
Hiking and biking
You might want to hike and bike. It's good exercise and even the little ones like to bask in the sunshine and fresh air.
The hikes in Utah and Salt Lake County range from the moderately easy to the challenging and difficult so a choice can be made along with the memories.
Schedule a hike up to the Timpanogos National Monument cave. It's doable for just about any age but challenging enough you feel rewarded by the time you get to the cave entrance. If you choose to hike be sure to wear comfortable shoes, bring plenty of water and get your tickets well in advance. Cost is minimal.
The biking trails are plentiful in Utah. So try the Provo River Trail that starts at the mouth of the Provo Canyon and bike, skateboard or walk all the way up to Vivian Park. It's cool, mostly shaded and within earshot of the river.
You might want to take a leisurely bike ride around Utah lake (or maybe just partway for starters).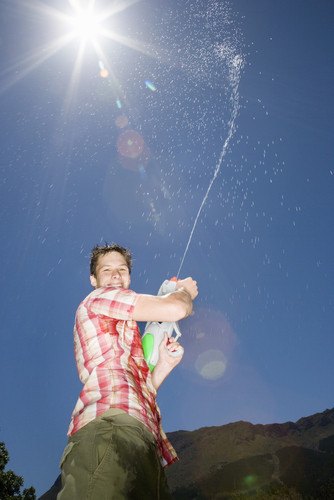 Keep it in the neighborhood
Many neighborhoods have parks every few blocks. Map out a plan and check out the different parks in your neighborhood each week. Bring bubbles, a Frisbee, football and picnic food then soak up the sun.
You may even consider arranging a water fight with some Super Soakers, water balloons, buckets and more. Whether you do it in your yard or at the park, it can be a blast from the past.
Get on stage
Help the kids put on a simple play. Give them a budget for costumes and props and help them select a story or fairytale to use as a script. Help them sell tickets for a quarter each so they'll get an audience. Have them serve some goodies before their big pre-broadway debut.
Play it again
Teach the kids some of the simple games from your childhood: Hopscotch, Four Square, Annie I Over, Wall Ball, etc. Be prepared with chalk, game balls and lemonade.
Serve someone
Find someone near by who needs weeds pulled or a fence painted. Do good deeds for people who won't expect it. Who knows, it may even come back to help you later on.
Feed God's creatures
Head to the zoo, an animal park or to visit the ducks at a pond or lake. Take some bread to share. Just watch out for duck bites... they don't necessarily hurt, but may get you by surprise.
Share your ideas of summer fun in the comments so others can benefit too!
×