Estimated read time: 2-3 minutes
This archived news story is available only for your personal, non-commercial use. Information in the story may be outdated or superseded by additional information. Reading or replaying the story in its archived form does not constitute a republication of the story.
MOAB — Moviegoers this summer may recognize some of Moab's unique geographic features on the big screen.
The scenery of the area has long drawn movie producers, including those working on the upcoming film "Transformers: Age of Extinction," which will be released in June. Another movie featuring Moab's landscape, "Need for Speed," came out in March.
"With its amazingly diverse terrain, producers found that Moab could take on the face of most any place on Earth and beyond," the Moab Utah Travel Council wrote.
Moab's movie history dates back to 1949 when "Wagon Master," starring John Wayne, was filmed in Professor Valley, Spanish Valley and along the Colorado River. Since then, producers of other movies have followed suit and opted to film in the area, including those working on popular movies like "Indiana Jones and the Last Crusade" and "Mission Impossible II."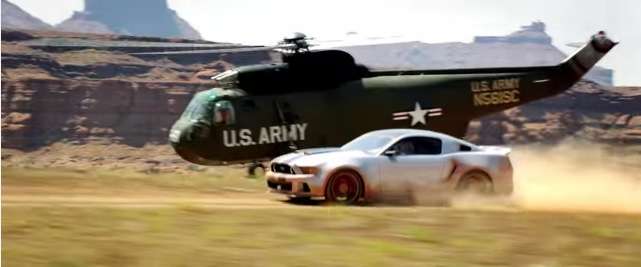 Movies filmed in Moab have even spawned activities in the places where they were filmed, like the Thelma & Louise half marathon, a women's only race that runs along the Colorado River.
We've compiled a list of the most recent movies that have been filmed in Moab below. A complete list of movies and information about where they were filmed can be found in the Moab Movie Auto Tour brochure.
Transformers: Age of Extinction (2014)
Locations: La Sal Junction, Hole in the Rock
Production company: Paramount Pictures
Director: Michael Bay
Starring: Mark Wahlberg, Nicola Peltz, Jack Reynor
Location: Dead Horse Point
Production company: DreamWorks SKG
Director: Scott Waugh
Starring: Aaron Paul, Dominic Cooper, Imogen Poots
Locations: Fossil Point and surrounding area, Highway 279, Goldbar Campground, Professor Valley
Production company: Walt Disney Pictures
Director: Gore Verbinski
Starring: Johnny Depp, Armie Hammer, William Fichtner
Locations: Fossil Point and surrounding area
Production company: Columbia Pictures
Director: M. Knight Shyamalan
Starring: Jaden Smith, Will Smith, David Denman
Guns, Girls and Gambling (2012)
Locations: Seven Mile Canyon and surrounding area
Production company: Incognito Pictures
Director: Michael Winnick
Starring: Christian Slater, Powers Booth, Dane Cook
Locations: Lake Powell, Hanksville, Fossil Point and surrounding area, Dead Horse Point and surrounding area, Highway 279, Fisher Towers
Production company: Walt Disney Pictures
Director: Andrew Stanton
Starring: Taylor Kitsch, Lynn Collins, Willem Dafoe
Locations: Blue John Canyon, Horseshoe Canyon, Sand Flats Recreation Area, Green River, Moab Regional Hospital
Production company: Fox Searchlight Pictures
Director: Danny Boyle
Starring: James Franco, Amber Tamblyn, Kate Mara
Location: San Rafael Swell
Production company: Paramount Pictures
Director: J.J. Abrams
Starring: Chris Pine, Zachary Quinto, Simon Pegg
×
Related links
Most recent Utah stories