This archived news story is available only for your personal, non-commercial use. Information in the story may be outdated or superseded by additional information. Reading or replaying the story in its archived form does not constitute a republication of the story.
SALT LAKE CITY — Are you a "true" Utahn? Take this quiz to find out how many of the essential Utah experiences you've tried. Give yourself one point for each activity that you have tried.
____1. Visit Temple Square
Whether you're a member of the LDS church or not, you need to at least take a stroll through Temple Square to truly say you've seen Salt Lake City. Whether you prefer flower gardens or Christmas lights, Temple Square is a lovely place to visit year-round.
Give yourself a bonus point if you've been to any of these historical Utah sites or events:
___ The Utah State Capitol Building
___ This is the Place Heritage Park
___ Newspaper Rock or other American Indian site
___ A cultural celebration such as the Greek Festival or Swiss Days
___ 2. Ski Utah
Utah's powder is the "Greatest Snow on Earth." Salt Lake City hosted the 2002 Winter Olympic Games and Utah has 14 ski resorts that extend from one end of the state to the other. If you haven't tried skiing or snowboarding in Utah, it's time to find out what all the fuss is about.
___ Give yourself a bonus point for each additional Utah resort you have skied or snowboarded, such as Park City, Snowbird, Snowbasin, or Brian Head.
___ Give yourself a bonus point if you've been cross-country skiing in Utah.
___ 3. Hike to Delicate Arch
It doesn't matter how many times you've seen this iconic arch on license plates, post cards and souvenir shot glasses, because nothing compares with seeing Delicate Arch in person. This popular hike can be found in Arches National Park, just outside Moab.
Related Stories:
Give yourself bonus points if you've visited these other Utah national parks.
___ Zion National Park
___ Bryce Canyon National Park
___ Canyonlands National Park
___ Capitol Reef National Park
___ Visited one or more of Utah's National Monuments, such as Timpanogos Cave, Grand Staircase-Escalante, or Cedar Breaks.
___ 4. Swim in the Great Salt Lake
Swimming in the Great Salt Lake is an experience that tourists from across the globe visit Utah to do, but many Utahns haven't tried it themselves. Yes, it's a little smelly and buggy, but it's not so bad once you get out there and you really will bob like a cork in the lake's super-saline waters. The best swimming spot is at Bridger Bay on Antelope Island.
Give yourself bonus points if you've also:
___ Been to Saltair
___ Seen Spiral Jetty
___ 5. Water ski Lake Powell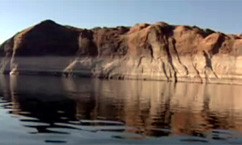 Water sking is a summer tradition for many Utahns and there is no place better for it than Lake Powell in southeastern Utah. With 2,000 miles of shoreline, spectacular scenery and lots of warm sunny days, it's one of Utah's best playgrounds.
Give yourself bonus points if you've enjoyed water sports on any of these lakes.
___ Bear Lake
___ Utah Lake
___ Flaming Gorge
___ 6. Visit Dinosaur National Monument
It's hard to dig a hole in Utah without finding a dinosaur fossil in it. One of the best places to see fossils is the Wall of Bones at Dinosaur National Monument in Vernal. Here, more than 1,500 dinosaur fossils are visible in a single quarry. See if you can spot Allosaurus, Apatosaurus, Camerasaurus, Diplodocus and Stegosaurus.
Give yourself bonus points for each additional dinosaur site you've visited.
___ Natural History Museum of Utah
___ Museum of Ancient Life at Thanksgiving Point
___ Ogden Eccles Dinosaur Park
___ St George Dinosaur Discovery Site
___ Prehistoric Museum at USU-Eastern
___ Cleveland-Lloyd Dinosaur Quarry
7. Drive the Bonneville Salt Flats
Some of the fastest land speeds on the planet have been clocked on the Bonneville Salt Flats Speedway in Utah's west desert. Go in the summer and stay on designated roads and driving areas to avoid getting stuck in the desert and to protect this unique environment. If you want to see how the pros do it, attend SpeedWeek in August.
Give yourself a bonus point if you've also:
___ Spent a weekend in Wendover or Mesquite, Nevada
___ 8. Attend the Utah Shakespeare Festival
The Tony-award winning Utah Shakespeare Festival has been a summer tradition in Cedar City for more than 50 years. Each year, the Festival produces plays for the summer and fall seasons. The Festival produces plays by a variety of playwrights, including popular musicals and comedies, so there is something for nearly everyone to enjoy.
Give yourself a bonus point for each of these other Utah cultural destinations you've experienced.
___ Capitol Theatre
___ Abravanel Hall
___ Pioneer Theatre Company
___ Utah Festival Opera
___ Tuacahn Amphitheatre
___ 9. Watch a Utah-BYU rivalry football game
Alas, the rivalry hasn't been the same since both Brigham Young University and the University of Utah left the Mountain West Conference. However, most longtime residents of Utah still know what side of this rivalry they are on, even if they didn't attend either of the schools.
Give yourself bonus points if you have attended any of these other Utah sporting events.
___ Utah Jazz basketball
___ Real Salt Lake soccer
___ Salt Lake Bees baseball
___ Utah Grizzlies hockey
___ You have a Ragnar sticker on your vehicle
___ 10. Try fry sauce
Step into almost any local burger joint and you'll find fry sauce. Part-ketchup, part-mayonnaise, this condiment is so beloved that many Utahns ask for a side of mayo when they travel out of state because they can't eat their french fries without it.
Give yourself a bonus point for each of these other Utah food experiences you've tried:
___ Pastrami burger
___ Chuck-a-Rama
___ Cache Valley cheese curds
___ Green Jell-O
How did you score?
20 or more - You're a true Utahn. You'll be celebrating at Crown Burger tonight.
8 to 19 - Not bad. You're in Utah but not of Utah.
7 or less - You're not from around here, are you? It's time to get out and embrace your surroundings.
It's impossible to include every experience that makes Utah a great place to live. Is one of your favorites missing from this list? Please tell us about it in the comments.
---
Allison Laypath is an expert on family travel and author of the family travel blog tipsforfamilytrips.com. With her family, Allison especially enjoys road trips, national parks and local field trips. Email Allison at allison@tipsforfamilytrips.com.
×
Related Links
Related Stories