Estimated read time: 2-3 minutes
This archived news story is available only for your personal, non-commercial use. Information in the story may be outdated or superseded by additional information. Reading or replaying the story in its archived form does not constitute a republication of the story.
Nicole Gonzales reporting A spring storm brought signs of winter -- including gloomy skies, cold rain and even snow -- back to Utah. Some areas were dusted with snow, but most of the snow melted as soon as it hit the ground.
But the storm isn't over yet. It could make for a slippery commute on Monday morning.
Even though we're in the second week of spring, it didn't feel like it Sunday. Residents had mixed feelings about this sudden change in the weather.
This storm is supposed to drop four to six inches of snow on the benches and possibly even more through the canyons and mountains.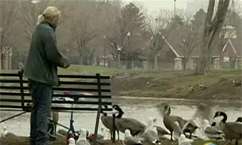 A mother and son feeding the birds; a scene that looks all too spring-like, except for the gray skies and drizzle. Shea Miller said, "I would rather it be spring. I'm tired of the cold." Miller says the only way to beat the winter weather is to try to have fun in it. "Coming out and playing, just trying to get out and play as much as possible," she said.
But for people trying to play at the ski resorts Monday, that may be difficult. The Utah Department of Transportation says it expects the canyons to get hit especially hard. It's suggesting drivers keep their snow tires on or bring chains if they're trying to get up the mountain.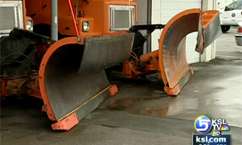 UDOT's Nile Easton suggests being prepared for driving on wet roads in the valley. "Slush can actually be more slippery than ice, so we see a lot of slide-offs. With a storm like this coming in, where it's going to be hitting during morning commute, unless people drive slowly there'll be a lot of problems."
Easton says these spring storms are easier to plow because the snow is wet. UDOT also doesn't have to worry about salting the roads because the road temperatures are staying in the 40s.
One difficulty for the department lies with organization and planning during these unpredictable spring flurries. "Storms like this, sometimes the benches can get six to eight inches of snow and the valleys, it's still wet. So it becomes a lot more targeted for us," Easton said.
UDOT says it will have plows up and ready to go through April. And in anticipation of a really long winter, it'll keep a few prepped into June.
That's OK with Raymond Gunn, who walked his dog in the snow today. "I love snow, and I heard the storm's coming in tonight. It's OK with me," he said. "Why live near the mountains if you don't like snow?"
E-mail: ngonzales@ksl.com
×
Related links
Most recent Utah stories