Estimated read time: 5-6 minutes
This archived news story is available only for your personal, non-commercial use. Information in the story may be outdated or superseded by additional information. Reading or replaying the story in its archived form does not constitute a republication of the story.
SALT LAKE CITY — A new study calls prisons and jails America's "new asylums," as they house up to 10 times the number of seriously mentally ill people than state psychiatric hospitals.
Prisons and jails "are neither equipped nor staffed to handle such problems," according to the Treatment Advocacy Center study released this week. "It is a situation that is grossly unfair to both the inmates and the corrections officials and should be the subject of public outrage and official action."
The Virginia-based nonprofit organization's report calls the Utah State Prison the "largest mental institution in the state," estimating that about 15 percent of its occupants are seriously mentally ill, exhibiting conditions beyond mild depression and more akin to schizophrenia, bipolar disorder and post-traumatic stress disorder.
County jails, the report states, also contain more mentally ill inmates than is therapeutically recommended.
As of Thursday, the state prison system was holding 2,637 inmates battling some form of mental illness requiring prescription psychotropic medications, which is nearly 38 percent of its total offender population, according to Steven Gehrke, Utah Department of Corrections spokesman.
"It has become well-known that prison systems throughout the United States have sadly become society's de facto mental health facilities," Gehrke said. "While the state prison can adequately handle these issues, we would always like to do more."
Prisons aren't designed to cater to the mentally ill, he said, but unfortunately become the only avenue to treatment for many people.
In Utah, treatment of mentally ill people in jails is mandated and provided through partnerships with local mental health authorities.
While all mentally ill inmates get help during incarceration, jails are "not where they should be getting treatment," said Jeremy Christensen, adult program administrator at the Utah Division of Substance Abuse and Mental Health.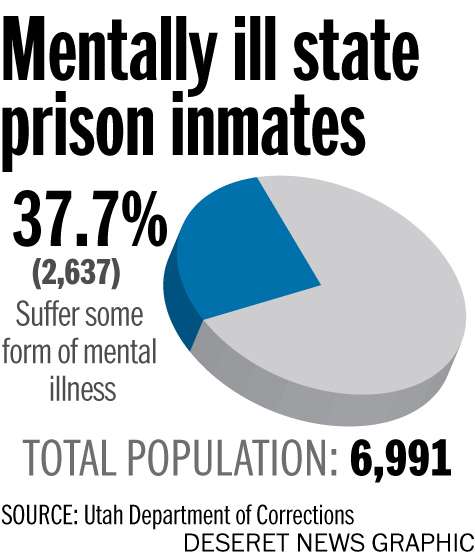 "It would be hard to argue that is a healthy environment for anybody," Christensen said. "It's limited just by the nature of the environment."
When a person who has been accused of a crime is found by the courts to be incompetent to face their charges, guilty by reason of insanity or guilty and mentally ill, they are directed to the Utah State Hospital, which has just 100 beds available for the treatment of mentally ill people transported from jails.
The facility, which also treats adults and children with mental illness, provides treatment intended to help restore a person's competency, said Don Rosenbaum, assistant superintendent and director of forensic services at the hospital.
Rosenbaum said the forensic unit at the hospital is "always full" and has a short waiting list. The average length of stay for court-ordered patients is around seven months.
"I think the system works well," he said. "I'd like to think we catch every person and give them what they need, but sometimes individuals do what they want to do."
Last year, the Treatment Advocacy Center released another report, giving Utah top grades on its criminal justice system's dealings with mental illness.
"There are mentally ill individuals who have criminal thinking and personalities and commit real, serious crimes, and you have to watch out for that, but the majority are very harmless and just need treatment that will get them out of the jail system," Christensen said, adding that treatment upon release is also an important part of recovery.
David Litvack, director of Salt Lake County's Criminal Justice Advisory Council, said much is being done to divert mentally ill people from becoming incarcerated in the first place.
"There is a lot of effort to recognize that the mentally ill are disproportionately impacted and equally disproportionately represented in the criminal justice system," Litvack said.
Various programs, including a mobile crisis outreach team and other interventions, are helping to get people in the hands of trained mental health professionals. Utah, Christensen said, offers one of the more comprehensive mental health systems in the country.
After recently visiting a handful of county jails, he said, "In every case, the sheriffs and jail management were very interested in figuring out better ways to address this issue because they don't want their jails full of people who shouldn't be there."
---
It is a situation that is grossly unfair to both the inmates and the corrections officials and should be the subject of public outrage and official action.
–Study
---
The center's study takes issue with states where there is a lack of beds for mentally ill inmates to be treated efficiently and correctly, revealing that state mental hospitals held 558,922 patients at their maximum census in 1955. Today, they hold approximately 35,000 beds, a dwindling number largely driven by funding.
The report also points to the adverse aspects of incarceration for an individual with serious mental illness, including maltreatment and victimization in many cases, and solitary confinement and attempted suicide or suicide in others.
"Because treatment of mental illness is often not available behind bars, symptoms often get worse, sometimes leading to self-mutilation," the report states. "Now that we have effective treatments available, we continue to confine these individuals but in prisons and jails where the treatments are largely not available. We characterize seriously mentally ill individuals as having a thinking disorder, but surely it is no worse than our own."
Utah prisons and jails have the ability to treat mentally ill inmates with various types of therapy, as well as some medications. However, many psychotropic medications are controlled substances, and jails have policies against such drugs.
Counties also have their own policies in dealing with mentally ill inmates, some contracting with private companies to offer care and others partnering with resources available in the community.
Related:
Christensen said a good public mental health care system has the potential to help those who can't access private care, which sometimes ends up being people desperate enough to commit crimes. He said there is help for anyone suffering a mental illness.
"Evidence is really showing that good treatment and recovery is possible for mental illness and good treatment in jails is possible," Christensen said, adding that the state's mental health court program is "proving that it's a solvable problem," taking several systems working together to be successful.
"When you talk about recovery, I think you can, in most cases, be more optimistic than we've been in the past about people recovering to a point of being able to function substantially well in the community," he said. "You're always going to have a small group that is very difficult to bring to that point, but across the board, people can function and recover much more than they are right now."
×
Photos
Most recent Utah stories