Estimated read time: 3-4 minutes
This archived news story is available only for your personal, non-commercial use. Information in the story may be outdated or superseded by additional information. Reading or replaying the story in its archived form does not constitute a republication of the story.
Tonya Papanikolas and Mary Richards reporting A new drug bust and a new film both highlight the prevalence of drug use in what's known as Utah's "Happy Valley."
Last night police from seven agencies in the Salt Lake valley raided homes and cars, and turned up $50,000 in cocaine and heroin, but the two-month investigation showed most of the users were young adults driving in from Utah County.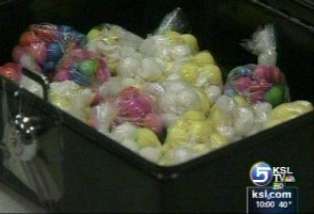 The balloons of heroin and cocaine were being sold for only $10 each. Police say that's a big part of the reason so many young people are trying the drug. As for where it's happening, those involved with a new film say drug use in Utah County is a reality, and people need to start talking about it.
Police confiscated 1,000 balloons of cocaine and heroin. Sgt. Victor Quezada, with the Sandy Police Department, said, "Now times that by five every day: 5,000 balloons being sold every day. That's a ton of dope going out."
The dealers were selling the drugs in Sandy and storing them in West Valley; but police say 85-percent of the buyers were coming from Utah County, and most were 17 to 24 years old.
Sgt. Quezada said, "We're seeing these youngsters getting hooked on heroin in junior high and high school, and that's very sad."
Sgt. Aaron Jensen, with the Narcotics Unit of the West Jordan Police Department, said, "This does highlight that this can happen anywhere in the state, not just in urban Salt Lake County."
Chris Sweeten is from Alpine. He's not surprised at the latest drug raid statistics. His own struggle with drugs is featured in a new movie called "Happy Valley." "I hope that we can kind of get it out in the open that Utah County has a huge, huge problem," he said.
Filmmaker Ron Williams hopes it makes people want to act. "This is a very strong grassroots movie. It's one of those movies when you see, people tell others because it has a profound effect on humanity. It doesn't matter what addiction somebody's dealing with. It could be anything," he said.
Williams says he could have filmed it anywhere, but Utah has unique problems--especially with prescription drug abuse. "Our addiction problems are no different than the rest of the country, but our denial issues are," he said.
Williams began the movie trying to help his ex-wife, who was addicted to painkillers. During the journey, Ron learned disturbing Utah trends he wanted to get out in the open. "We lead the nation, twice the national average in prescription pain killer abuse," he says. "Then it leads to street drugs. We have a very serious problem in Utah County and Utah as a whole."
Recovering addict Danny Allen said, "You go down in Orem, you could go, you can actually see drug deals taking place everywhere."
Allen is also featured in the film and wants people to know addicts cross all boundaries. "There's no dividing line, it's not our color, it's not our wealth, it's not our religion - it crosses all those borders," he says.
The two drug users we interviewed said they've been clean for eight months and a year. They said the film actually helped them realize how they were destroying their lives. Now they hope the movie can help prompt parents to talk to their children about drug use, before kids become addicted.
The film has already won an international award, and Williams hopes the movie will soon be shown in many more markets.
For more information on the film and where you can see it, click the related link.
E-mail: mrichards@ksl.com
E-mail: tpapanikolas@ksl.com
×
Related links
Most recent Utah stories