Estimated read time: 5-6 minutes
This archived news story is available only for your personal, non-commercial use. Information in the story may be outdated or superseded by additional information. Reading or replaying the story in its archived form does not constitute a republication of the story.
MESA, Ariz. — Twin brothers in Arizona pulled out all the stops for their recent proposals, getting down on one knee in front of their prospective brides at a YSA conference, with Mitt Romney and 3,000 people watching.
Bride-to-be Ashley Chapman, 29, said she did not expect to graduate from Brigham Young University without finding "the one." She found a great post-graduation job as an event planner but still always had marriage in the back of her mind.
"I always had that as a priority," Chapman said. "I dated and had so many wonderful experiences but it was never clicking with any one person. I decided to get out of Utah."
Chapman packed up and moved to Mesa, Ariz., and continued to plan events.
The Linford Twins, twin brothers Jason and Jeffrey, attended BYU and played concerts around Provo, but Chapman never got a chance to see them while she was there.
But when she moved down to Arizona, the twins were back in their hometown, too. She kept running into them in her social circles and even ended up going out on a date with Jason, but it didn't work out.
Jason and Jeffrey Linford, 31, were born in Boise, Idaho, but grew up in Mesa. When they were in fourth grade, they joined orchestra and started playing the violin. Jeffrey said they became obsessed with the fiddling genre.
"The fiddling took us all over the country," Jeffrey, 31, said. "We became the 'Twin Fiddlers'."
After graduating from BYU, they settled back in Mesa, writing and playing music and started their own pest control company. Since they were so close, they wanted their future spouses to get along, too.
"We wanted to date girls that were friends," Jeffrey said.
Jeffrey and Chapman met at a church activity a few years ago. He was one of her friends who encouraged her to go on "The Mormon Bachelorette" and even helped her with her submission video.
The couple later reconnected at a church activity in May of 2013 and really hit it off. Jeffrey said that was the extra push he needed to know that Chapman wanted to go out with him.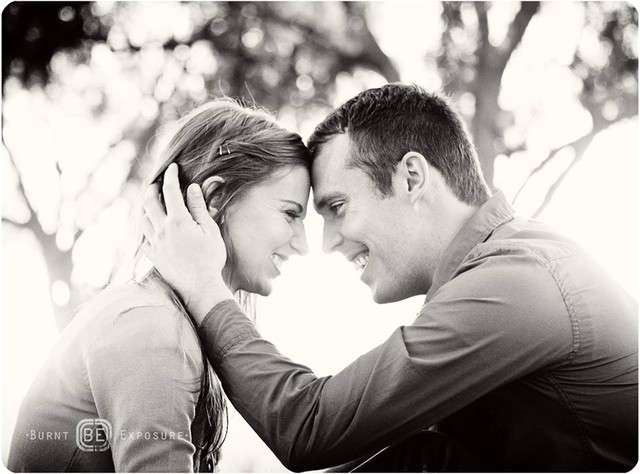 "Give guys hints," Jeffrey said with a laugh. "She made it obvious she wanted to hang out, so I asked her out."
Shortly before they started their courtship, Jeffrey's twin brother, Jason, started dating Esther Blackham, 30. Jason and Esther hit it off as well, and the two couples went on many double dates together that summer. The couples said that it really helped that Blackham and Chapman were friends prior to dating the Linford twins.
In October, Jeffrey started planning out his proposal. He wanted to make it big and memorable. Chapman had discussed the proposal with Jeffrey already because she knew he liked to come up with big ideas. She made sure he knew she didn't need "anything grandiose," she said.
Jeffrey and Jason decided together that it would be fun to propose at the LDS Young Single Adult regional conference in January 2014.
"All of our family and friends will be there," Jeffrey said. "We thought it was a great idea."
Jason and Blackham had not discussed marriage yet and at first weren't included in Jeffrey's plans to propose. But he started talking with Jason, who talked wanting to propose in the spring. Jeffrey said he asked Jason if he felt the same about Blackham now as he would in the spring. Jason replied yes.
"Why wait?" Jeffrey asked him.
And the double proposal idea was born.
Jeffrey and Jason decided they would perform one of their own original songs they had written years before for their future wives.
"Jason took it to the next level and orchestrated getting the parents there to surprise their daughters and bring flowers on stage," Jeffrey said.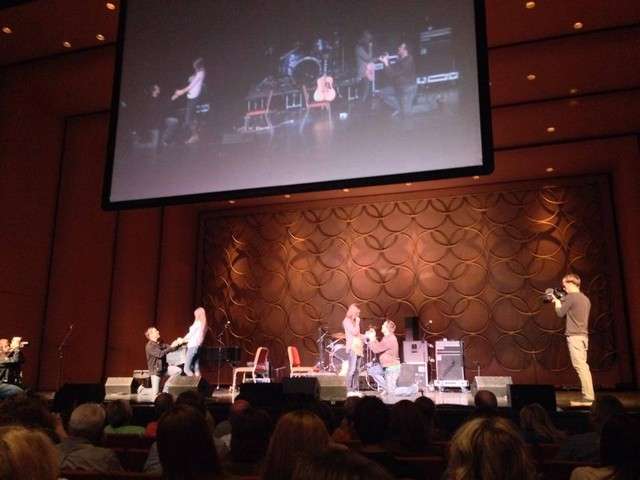 On the night of the proposal, Jeffrey said he was sure Chapman would find out. Jeffrey and Jason were in the show's line-up to sing and play the fiddle so she didn't think too much of them walking around backstage. However, Chapman was in charge of planning the conference so it was extra tricky to keep her out of the plans, Jeffrey said. And Mitt Romney was a guest speaker at the event so the twins had to deal with added security as well.
"We had to convince (Romney's) security to let the parents by the stage," Linford said. "We convinced half, but the other half was against it."
While Jeffrey was quietly pleading with security to let them all go on stage, Chapman was walking around and missing her parents "by inches," Linford said.
"But somehow we pulled it off," he said. "Romney's security approved it all minutes before it was going to go on."
Jason and Jeffrey pulled Blackham and Chapman onto the stage and sang them a song and then the twins both got down onto one knee. Chapman, overcome with emotion, fell to her knees and started crying. The event was captured on video and uploaded to the Linford Twins' YouTube account.
"Esther didn't know what was going on," Linford said. "She was just shocked, but she was happy. We were just walking around on cloud nine. All our friends and family were there. I even convinced Mitt to stay and watch."
They proposed at the same time, but a double wedding was not on the books — until a few days later. The Gilbert, Ariz., LDS temple was opening in a few days and they needed to call that Tuesday to secure their wedding day. Chapman said she didn't mind sharing a wedding day, but she wanted Blackham to make the decision. Blackham and Chapman met up the next day to discuss it and then later agreed to the double wedding.
"(A double wedding) is stressful," Jeffrey said. "For every decision, there's a debate. Plus (Ashley and Esther) have different colors, decorations, florists. But it's been kinda fun."
The two couples plan on getting married on April 26 in Gilbert, Ariz.
×
Photos
Related links
Related stories
Most recent Family stories