Estimated read time: 3-4 minutes
This archived news story is available only for your personal, non-commercial use. Information in the story may be outdated or superseded by additional information. Reading or replaying the story in its archived form does not constitute a republication of the story.
SALT LAKE CITY — Charles Garcia, an outdoor enthusiast, found a unique opportunity Monday to step out of what he calls "my house" — cell number 5D28 in the Salt Lake County Jail.
The 30-year-old was one of about 30 inmates who participated in the Initiative to Bring Science Programs to the Incarcerated, or INSPIRE, a program that seeks to give inmates educational opportunities that may lead to future interest and possible employment in scientific fields.
"We're human beings, just like everybody else," Garcia said. "I've had a bad past, I've done some dumb stuff. But some of these ideas could actually make me want to do something. It's not a waste of time to teach anybody. Everybody's teachable."
Nalini Nadkarni, a biology professor and director of the Center for Science and Mathematics Education at the University of Utah, was the first speaker in the monthly lecture series that will visit the jail. Her presentation on trees and sustainability is one she's been giving since 2005 at jails and state prisons in Washington.
"Many of the people that are in jail are those who have had poor backgrounds in education. Many of them have learning disorders that have made formal education very difficult," Nadkarni said. "It doesn't mean, though, that they aren't interested in learning, nor that they wouldn't benefit from being exposed to education."
---
Many of the people that are in jail are those who have had poor backgrounds in education. ... It doesn't mean, though, that they aren't interested in learning.
–Nalini Nadkarni, U. biology professor
---
Nadkarni cited a recent report by the U.S. Department of Justice which found that recidivism was 13 percent lower for inmates who were exposed to some form of education while incarcerated over those who were not. Such improvements make the program a worthwhile investment, she said, especially because 95 percent of prisoners are eventually released.
"From the standpoint of taxpayers and where society spends its money and makes its investments, I think that bringing science and education in general to the incarcerated really pays its way," she said. "It may be that nobody wants to hire a felon, but I think there's a better chance that people will ... see the efforts that former inmates are making to better themselves, to become more productive members of society."
INSPIRE is funded by the National Science Foundation and private donors, according to Nadkarni. The U. will facilitate the program by providing lecturers and research project opportunities for inmates at the Salt Lake County Jail, and possibly other jails throughout the state.
While the jail currently offers adult education, substance abuse and re-entry programs, as well as religious services, Salt Lake County Sheriff's Capt. Matt Dumont hopes the lecture series on science will "engage" inmates in a new way.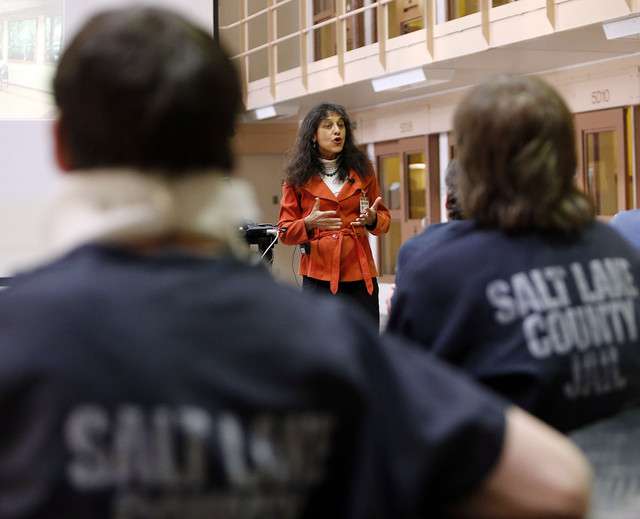 "For prisoners who participate in programs, often times we see an interruption in that thought process that got them here in the first place. They're grateful for opportunities to engage their minds," he said. "Ideally, they would take this knowledge and spark an interest in further study and maybe some employment opportunities."
Inmate Brandon Creer, 49, says programs like INSPIRE are in high demand among prisoners.
"You get lines of people at programs like this," he said. Nadkarni's lecture on forestry "sparked a lot of interest in me (and is) something I could very well pursue."
While she can't guarantee them a job, Nadkarni says she enjoys meeting with inmates and encouraging them to look at life differently.
"Many of the inmates that I've encountered are really some of the best students I've ever had because their motivation is so strong, they don't want to come back here," she said. "We can't make it easy for them, but we can at least provide a little bit of spark, a little bit of inspiration ... of moving away from their former life to a better life that will be more productive in society."
×
Photos
Related links
Most recent Utah stories