This archived news story is available only for your personal, non-commercial use. Information in the story may be outdated or superseded by additional information. Reading or replaying the story in its archived form does not constitute a republication of the story.
BINGHAM CANYON — These men and women are modern-day heavy metal archaeologists who move tons of dirt and rock, revealing unearthly looking things that resemble Transformers.
And like a scene straight out of the popular science fiction/action film series, nothing that rises from the tombs of Kennecott's massive landslide seems built to scale.
These haul trucks, this "shovel" that weighs 3.4 million pounds on its own, have all been supersized — way past Tonka trucks on steroids.
The 97 shovel, whisked along by some portion of the 165-million ton slide on April 10, is slowly being exhumed from its grave.
Chris Leonelli, operations superintendent, is directing this slow dance of recovery and salvage at the Bingham Canyon Mine, where 16 pieces of heavy equipment have been recovered since November.
"It changes every day because of the amount of ore that is moved," Leonelli said. "When you are moving 400,000 tons of dirt, I don't think anyone actually understands how much that is."
That 400,000 tons of dirt is what is moved on a single day. Some 17 million tons of material have been moved from the bottom of the mine alone since the slide occurred.
The salvage operation is another one of those challenges Rio Tinto Kennecott must overcome on its path to resume normal operations since the slide.
The company has already dealt with its mine temporarily idled because of a federal investigation, a decrease in production, the layoff of workers and redefining itself in a global market to stay competitive.
With this hurdle of retrieving severely mangled and prohibitively expensive equipment, the company has been able to cut its costs to practically zero via the sale of more than $2 million pounds of the scrap metal.
"We know we will get through this," Leonelli said.
The operation has been a learning experience, however, because of its scale.
"What we are doing is really unprecedented," mine spokesman Kyle Bennett said. "It's a unique operation."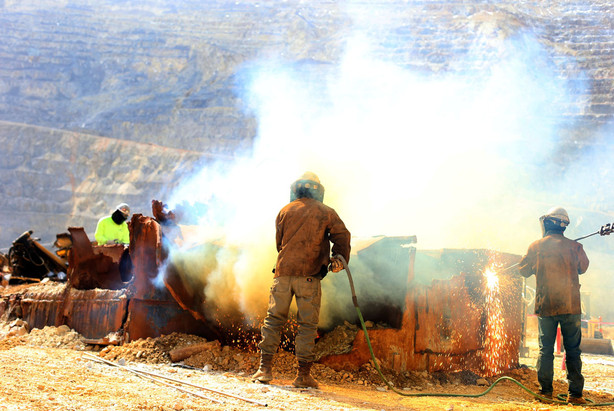 Project managers, construction engineers, mining experts, seismologists and geohazard scientists have all been left to grapple with the aftermath of what is likely North America's largest non-volcanic slide in modern-day history.
The collapse of the mountain buried or damaged 13 haul trucks — big, yellow beasts that weigh 400 tons, are the size of a two-story house and sport tires that are 12-feet tall.
Rachel Barrett, a construction engineer, notes that each recovery operation of the trucks played out differently, with nothing taken for granted.
On this day, crews are continuing the fastidious task of dismembering the 97 shovel's "counterweight," which is a half-million pounds of shredded encased steel that kept the machine in balance.
Men are tackling the big chunk of metal with blowtorches to cut it apart into small enough pieces so it can be hauled away to the boneyard.
Dismantling the expensive, specialized piece of equipment has been months in the making because of its sheer enormity. Its 74-yard dipper can hold 120 tons per scoop — and three scoops will fill the trailer on a haul truck.
"To get the shovel out at one point, it was estimated that we had 10,000 horsepowers applied to that shovel, with five dozers and two haul trucks pushing and pulling at the same time," Barrett said.
Even the veterans like Leonelli, who has close to 20 years in with the company, are astounded at the "firsts" they are seeing on the job.
"Who has ever said they've cut up a haul truck?"
×
Photos
Related Stories