SALT LAKE CITY — A company is rolling out a new ad campaign and offer for customers, after a previous mailer featuring a child playing with a rubber ducky next to an open toilet drew criticism over insensitivity and safety concerns.
The new Any Hour Services ad slated to go out this weekend features the same child standing next to a toilet that has the seat lowered and a child safety lock in place. The ad also has photos of Lark and Vince Martinez and their deceased son, Tregory, and bears the inscription, "Keep your toddlers safe & clean with toilet latch."
The ad has the full support of the Martinez family.
"That's the one thing [Lark] said that if she would have had that safety device, things would be much different now," said company president Wyatt Hepworth, who consulted directly with the family about the new advertising direction.
Hepworth said the company, starting immediately, will install a free child-proof latch with any plumbing purchase over $50.
In 1994, Lark Martinez returned to her bathroom to find then-14-month-old Tregory face down and unresponsive in the toilet.
He suffered massive brain damage and ultimately died.
"We are working together and I feel very blessed for this situation," Lark Martinez said Thursday. "I feel really confident that so much good is coming out of this."
Fallout over the previous ad cut deeply at Any Hour. Hepworth considers his a "pro-family" business, with clean-cut, licensed workers.
"In sincerity, we wanted to reach out to this family and let them know that we really do care," Hepworth said.
The original and new ads both feature 16-month-old Abe Walker.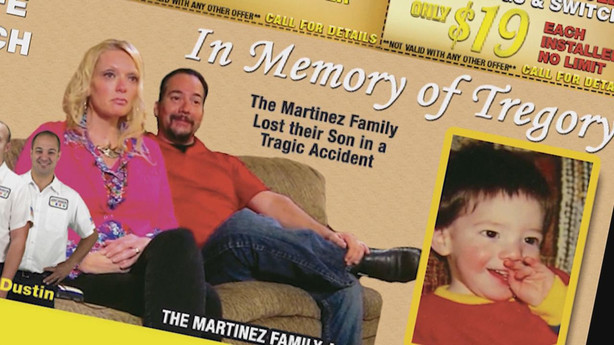 His mother, Jesse Walker, said she keeps her toilet seat down at home and she feels that playing around the toilet is "gross" — but she said she never thought what happened to the Martinez family could happen in a home.
"You think about the bath tub and you think about pools and things like that, but you never think about the toilet," Walker said.
The Consumer Product Safety Commission has recorded dozens of child injuries and deaths in toilets over the past two decades.
It recommends families with young children install the toilet seat cover locks, such as the ones Any Hour Services is now offering to install.
Hepworth said he hopes the new ad and offer may spare others the tragedy that struck Tregory and his parents.
"They (the Martinez family) are very happy that we're sincere about it and that we actually care," he said.


×
Photos
Related Stories