Estimated read time: 3-4 minutes
This archived news story is available only for your personal, non-commercial use. Information in the story may be outdated or superseded by additional information. Reading or replaying the story in its archived form does not constitute a republication of the story.
SALT LAKE CITY — A small activist women's organization is detracting from thoughtful discussions about women in The Church of Jesus Christ of Latter-day Saints, a church spokeswoman said Monday in a letter to the group.
The letter, signed by Jessica Moody, is a response to a written request by four women leaders of a group called "Ordain Women" for tickets to the church's semiannual general priesthood meeting next month.
Moody wrote in her letter that the church is unable to fulfill the request for tickets because the meeting "is designed to strengthen men and boys as they receive specific instruction about their roles and responsibilities."
The group has said that if the church denied tickets to women, it would repeat its actions of last October, when women affiliated with Ordain Women attempted to enter the priesthood meeting without tickets.
Moody said most LDS women consider Ordain Women to be extreme, and asked the group to reconsider its plans to demonstrate.
"Women in the church, by a very large majority, do not share your advocacy for priesthood ordination for women and consider that position to be extreme," Moody said in the letter.
The Pew Research Center surveyed American Latter-day Saint women in 2011 and found that 90 percent opposed the ordination of women to the priesthood.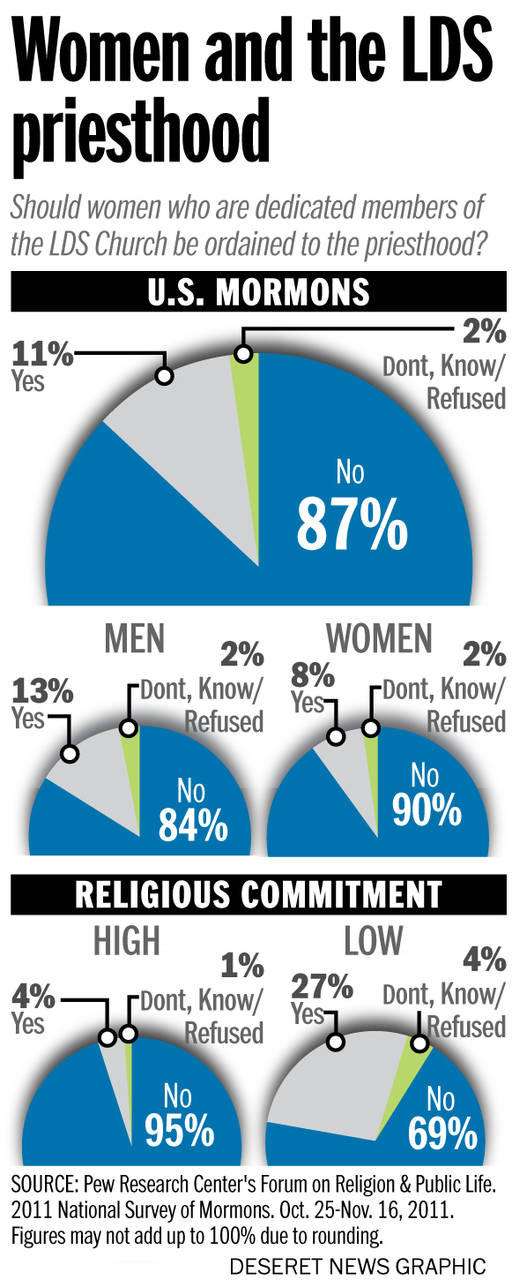 Around 150 members of Ordain Women gathered during last October's LDS General Conference. As many as 500 of their 2,000 worldwide members may gather in Temple Square this April in an attempt to attend the Priesthood session in the Conference Center or Tabernacle. Putting their numbers in perspective, there are six million Latter-day Saint women.
In her letter, Moody said any demonstration should be kept to the free-speech zones outside Temple Square. "If you feel you must come and demonstrate, we ask that you do so in free speech zones adjacent to Temple Square, which have long been established for those wishing to voice differing viewpoints."
Kate Kelly, the Founder of Ordain Women disapproved. "The free-speech zone is an inappropriate place for us to be because we're not demonstrating against the Church — we're active participants," Kelly said. "We see ourselves as faithful, active members of the Church and far from fighting against the Church, we are the Church."
Another group, "Mormon Women Stand," actively supports the Church's current doctrine through blogs and their website. Emily B. Farrer, a member of "Mormon Women Stand," said, "The Proclamation on the family … (states) men and women are equal. It shouldn't really be an issue. I know it is, but it shouldn't. We really want inclusion with 'Mormon Women Stand' too, but we want support for our church and our church leaders."
Author Joanna Brooks' latest research is about Mormon feminists going back to the 1970s. She sees positive changes and important discussions taking place for Latter-day Saint women within the faith. The author of "Mormon Girl" said there are many who look forward to "an open conversation where all of us can ... take part in our wards or at our stake levels, feeling freer to discuss our hopes for and our desire to serve as women, as men. But it's clear there are some conversations happening behind closed doors as well, at the Church headquarters."
Kelly said Ordain Women members look forward to continuing the dialogue.
However, Moody's letter is clear. "Declaring … (priesthood ordination for women) to be non-negotiable, as you have done, actually detracts from the helpful discussions that Church leaders have held as they seek to listen to the thoughts, concerns, and hopes of women inside and outside of Church leadership. Ordination of women to the priesthood is a matter of doctrine that is contrary to the Lord's revealed organization for His Church."
×
Related Links
Related Stories