WEST JORDAN — A little more than a week after returning from a service trip to the Philippines, Eric Bates' home was burglarized.
Thieves ransacked Bates' home and stole electronics Tuesday evening while he was at an event with his wife and children. Bates had just returned home from building houses in the Philippines with his brothers on March 1.
"That's what put it back in perspective," he said. "We were cleaning up all of our unmentionables scattered across the room, and there was a picture my wife had blown up of me and my brothers over there working. We lost a little bit of stuff, but still nothing like what (the people in the Philippines) had to deal with over there. It lessened the blow quite a bit and put everything back into perspective."
Bates estimated his family's total loss was near several thousand dollars, between the stolen items and damage done to the door thieves used to break in. The burglars took electronics like a TV, iPads, XBox and laptops from the downstairs and looked for other items upstairs, he said.
"All of the drawers were out and turned upside down, and the closet had been through," he said. "I have an 8-year-old little girl and they had gone through her stuff and my boy's room and taken anything they wanted and had their way with whatever they wanted to do in the house."
Related Story
However, he said their greatest loss was family pictures stored on a laptop and a sense of security at home.
"We're the fools who didn't have it backed it up — it's all on that laptop," he said. "That's the part that's the worst. The stuff that can be replaced — I don't care about the TV and that kind of stuff, but the pictures and having someone in your house — what that does to your family (is difficult)."
Neighbors have reached out to help the family. He said word about the burglary spread quickly and neighbors stayed at his house until after midnight on the night of the burglary to help secure the doors and put things back together. When he woke up Wednesday morning, he had 16 text messages on his phone and people kept calling and stopping by the house to see what they could do to help throughout the day.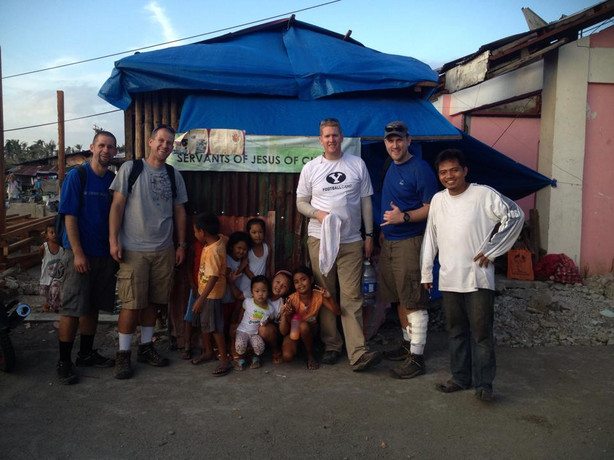 "The night we got broke into, we sat down with my kids and just tried to explain that there are still good people, there are just some bad eggs in the world and they saw it firsthand yesterday — just the outreach that we've had is amazing," he said. "The help, the meals — our counter looks like it's Christmastime with all of the treats that have been delivered. It's very humbling."
Bates said they consider themselves lucky because no one was home during the burglary and the thieves appeared to be looking for items they could grab quickly, but passed over documents that could be used for identity theft like passports.
West Jordan police said they don't currently have any suspects for the burglary, but that the Bates family provided serial numbers for some of the items so if the stolen goods show up in a pawn shop or online, police can use the number to track down who had the item last.
Police said these types of burglaries increase with warm weather.
Bates' work in the Philippines and Tuesday's burglary have provided a learning experience, he said.
"That's what the last two weeks have been — just a reality check of what's really important in life and what's not and kind of prioritizing it," he said.
×
Photos
Related Stories