Estimated read time: 2-3 minutes
This archived news story is available only for your personal, non-commercial use. Information in the story may be outdated or superseded by additional information. Reading or replaying the story in its archived form does not constitute a republication of the story.
Amanda Butterfield reportingA loaded clip from a gun appeared on a school bus in Weber County. So, where's the gun?
The day after the clip was found, students at the junior high were searched and put through a metal detector. Police still haven't found the student who brought it in, or any sign of a gun, though some other weapons were discovered.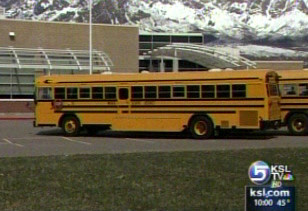 The magazine clip belongs to an expensive gun. Harrisville Police Chief Max Jackson said it goes with a "high-priced, top-dollar, Sig Sauer .40 caliber handgun."
Boys from Majestic Elementary School found the full magazine clip wedged between a seat and the side of the bus. The driver called Orion Junior High, which is where students he had just dropped off attend school.
Jackson said, "They immediately came to the school and got a list of all the kids who ride that bus and searched their lockers."
The next day, those same kids had their backpacks checked and were put through a metal detector, and weapons were found. "One young man had a knife with gang inscriptions, another young man had plastic air soft pistol," Jackson said.
But there was no sign of a gun, and the student who brought the clip didn't step forward.
One student, Eric Thompson, said, "When I first heard about it, I was kinda shocked and surprised that someone would bring a gun clip to school, like their intention was to kill someone or something if they ever brought a gun."
Nate Taggart, with the Weber School District, said, "We're taking this serious." The school district sent letters out to parents of the elementary and junior high students, asking for anyone who knows about this to call them. They also reminded parents to keep their weapons under lock and key.
Since seven days have gone by with no sign of the gun, the district is losing hope it will ever show up. "We're beginning to believe it was a student who just brought a clip," Taggart said.
Under the Junior High's Safe School Policy, a student can be suspended for bringing a weapon or weapon paraphernalia to school. Harrisville police say, at this point, if the student who brought the magazine is found, he or she would receive punishment only through the school, not the police department.
E-mail: abutterfield@ksl.com
×