Estimated read time: 2-3 minutes
This archived news story is available only for your personal, non-commercial use. Information in the story may be outdated or superseded by additional information. Reading or replaying the story in its archived form does not constitute a republication of the story.
NETHERLANDS — It is an hour-and-a-half before the guys are supposed to be over to watch a football game.
You have chips and dip ready to go and all of the fixings for tacos and everything else you want to serve. But in a moment of stark terror, you come to the realization that there is no guacamole. You jump in the car and head over to the supermarket hoping to remember all of the things you need to make the spicy mixture of avocado, tomato and cilantro heaven.
Netherlands-based European technology giant Philips is now aiming to make these moments with new supermarket technology a thing of the past. It is now testing an "intelligent" information/lighting solution which will help shoppers navigate around public spaces.
While it was focused on creating LED light-emitting carpets for airports and cinemas last year, Philips is now taking the technology "to the ceiling" with a system which sends information, such as special offers, to customers' smartphones depending where they are in the store.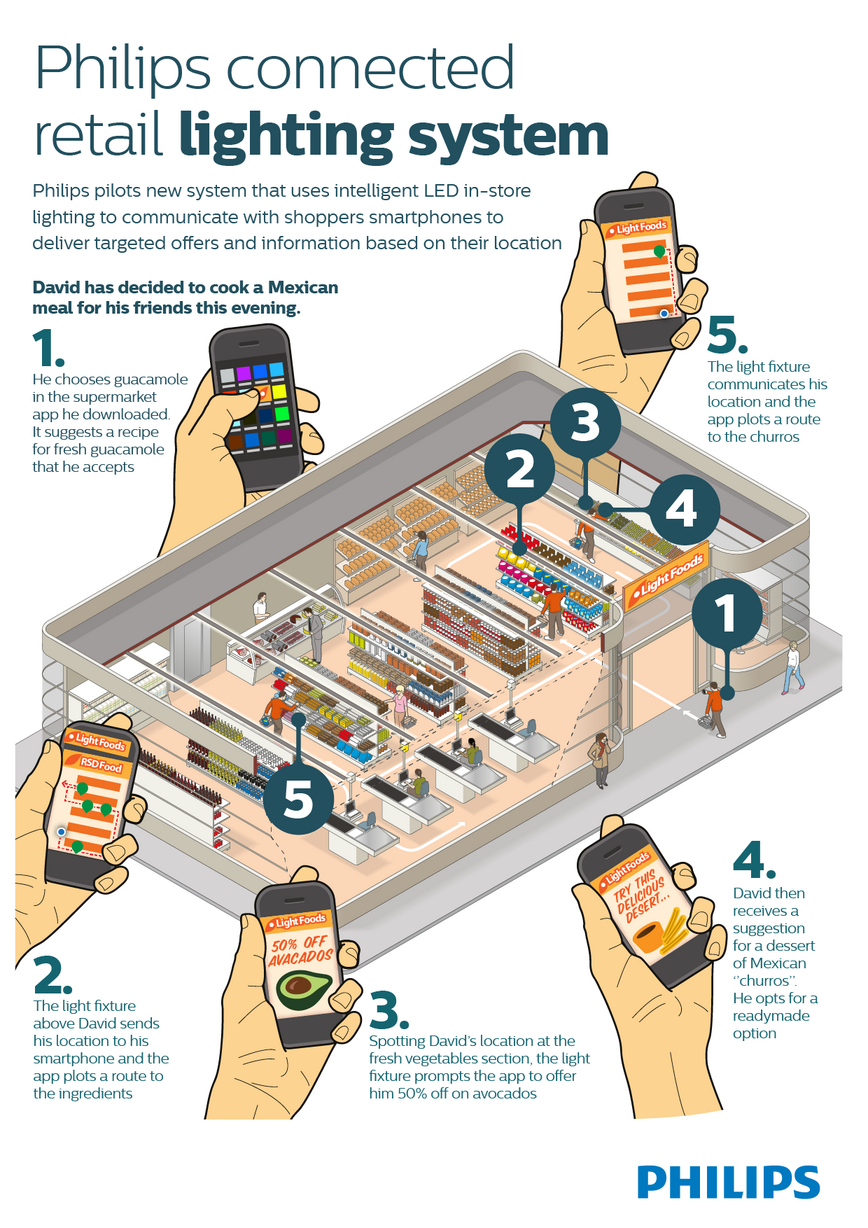 By downloading an app to their phone, customers will be able to take advantage of a dense network of LEDs as a positioning grid installed on ceilings to find their way around a grocery store getting information related to their position as they gather groceries.
Taking the technology a step further, customers can utilize the network like a personal shopping assistant pointing them directly where they can find specific ingredients for whatever dish they intend to make. If they want to buy a prepackaged product such as cake mix, they will be directed to the product on the shelf. But if a shopper wants to bake a cake from scratch, the phone app will plot a route leading him through store aisles to collect the items needed.
From a marketing standpoint, Philips thinks the system could be another profit center for supermarkets and manufacturers when the system is used to introduce shoppers to new brands and products in the store, in addition to suggesting ingredients for alternative recipes.
When will the technology be coming to a supermarket near you? Well, Philips isn't saying, but it is currently being tested by retailers in Europe. Paul Kruze is a San Diego-based professional, multiple award-winning multimedia journalist who has covered politics, multicultural and technology stories. He is also a professional musician. Email: paul@paulkruzelive.com
×
Photos
Related links
Most recent Science stories