Estimated read time: 5-6 minutes
This archived news story is available only for your personal, non-commercial use. Information in the story may be outdated or superseded by additional information. Reading or replaying the story in its archived form does not constitute a republication of the story.
HAPPIEST PLACE ON EARTH — Because it's relatively close and family friendly, many Utahns have taken a vacation at Disneyland and know what Disney Parks have to offer. But some events take place in the parks that may give you a unique Disneyland experience on your next vacation.
After my last trip to Disneyland, I have found a strong reason to go back: Dapper Day, a twice-yearly "unofficial" day at Disneyland.
Disneyland is home to several unofficial event days organized by communities of interest groups as social functions. Some revolve around fandoms like Harry Potter and Star Wars, but others target specific lifestyles like Bats Day for Goths and Dapper Day, which is organized for those who wish to "step out in style" during their trip to Disneyland.
Disney Parks does not organize or carry responsibility for these events, but they welcome these large-group events at their parks.
"While we do not sponsor the (Dapper Day) event, we work with organizers to ensure the best guest service possible, as we do with all large groups. We are pleased that our Guests can make special memories at our Resort during enjoyable events like Dapper Day," said Melanie Vogel from Disneyland Resort media relations via email.
Justin Jorgensen started Dapper Day in 2011 while he was doing consulting for Imagineering, Disney's design and development branch. He noticed that in the original concept art for Disneyland, the renderings included people who were dressed for a true night on the town, Jorgensen told the Disney Style Blog.
Jorgensen knew that his friends and others would jump at the chance to dress their best at Disneyland, so he decided to organize an event.
---
There needs to be a day for people who enjoy fashion and dressing to be able to visit Disneyland and not feel out of place. So I put Dapper Day in high gear and with only a couple weeks notice I organized the first event in February 2011.
–Justin Jorgensen
---
"There needs to be a day for people who enjoy fashion and dressing to be able to visit Disneyland and not feel out of place. So I put Dapper Day in high gear and with only a couple weeks notice I organized the first event in February 2011," Jorgensen said.
Jorgensen believes more than 100 people showed up for the first Dapper Day. But just over two years later, he estimated more than 10,000 people participated in the 2013 Fall Soirée Dapper Day event.
Why it's great
In the first place, the atmosphere at Disneyland is generally more positive than other amusement parks. But when you add a level of camaraderie brought by a large community of strangers that share common ground, the atmosphere begins to buzz with excitement.
Additionally, everyone is welcome to participate at any level. There were babies and children in tweeds and old-fashioned prams, teens in news caps and circle skirts, and the retired set in suspenders and bow ties.
Let's just say the people-watching, while always great at Disneyland, gets kicked up a notch. Or three.
What to wear
Jorgensen makes it very clear on his website that anyone getting dolled up at any level is welcome at Dapper Day events. However, be aware that most people will dress with vintage fashion in mind, whether it's with subtle accessories or head-to-toe commitment.
One couple said they decided to "dress dapper from the waist up," so they could participate in the event while still being comfortable for a full day as Disneyland. On the other end of the spectrum, one woman dressed to and acted out a different personality, including a dog hand puppet named Lady. But the majority fall somewhere in between.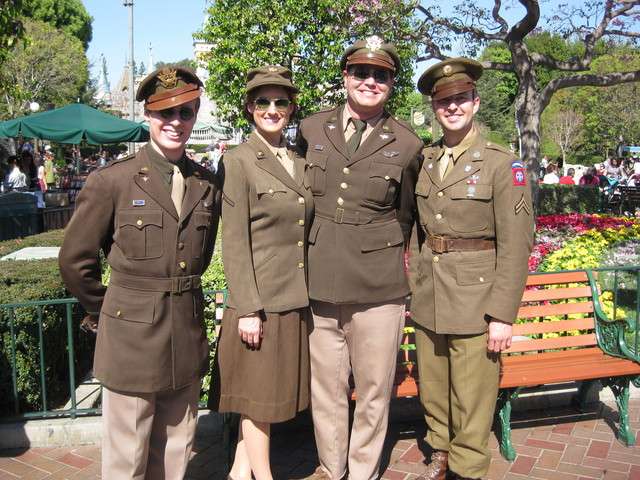 Many people make their own outfits with color and style choices that reference their favorite Disney characters without replicating the character's costume. Additionally, many people wore contemporary, chic outfits. (Members of the military are encouraged to come in their dress uniforms.) For more specific ideas, visit the Disney Style Blog.
Whichever route you choose, take special care your dapper outfit doesn't turn the corner into costume. Disneyland has a strict no costume policy, and they may deny you access to the park if they feel you have violated that policy.
What to do
Mostly the event is simply decking out and enjoying the parks as you normally would. You're simply doing it with a community of strangers bonded by dressing to the nines. But there are scheduled gatherings in the park as well.
In the early afternoon during the spring events, Dapper Day participants meet at the Mark Twain, the steamboat docked in Adventure Land, to take their turn riding the boat around the Rivers of America. It ends up being an informal fashion show where people chat about their outfits, take pictures and enjoy the general splendor of the event.
The fall event is considered an evening affair, so Dapper Day-ers meet at King Arthur's Carousel in Fantasyland in the evening for a similar informal fashion show.
Jorgensen lists the meet times of these meets on his website the week of the event.
Recent new additions to the event include a vintage boutique with several vendors and a styling suite where you can get your hair and makeup done for the day. Both are located in the Grand Californian, the hotel attached to the Disney California Adventure Park. The styling suite requires appointments.
The next Dapper Day event at Disneyland will take place on Sept. 12. Dapper Day events will also take place this year on March 9 at Disney World's the Magic Kingdom, on Sept. 20 at Disneyland Parc in Paris, and on Sept. 27 at Disney World's Hollywood Studio. To learn more, visit DapperDay.com.
×
Photos
Related links
Most recent Utah stories