SALT LAKE CITY — Junior college transfer Princeton Onwas has had his ups and downs this season for the Utes, but throughout it all, his focus has been on how to be an effective team player and how to help the team win games.
"(I'm) trying to have a winning focus," Onwas said of his role on the team. "I'm not really worrying about my personal goals, just hoping the team is prepared and that we execute our game plans."
Onwas, a 6-foot-5 guard/forward from Katy, Texas, brings an energy and excitement to the Utes that hasn't been seen for some time for the program, particularly on the defensive side of the ball.
"We haven't had that kind of athleticism and that kind of pursuit of basketballs around here," Utah head coach Larry Krystkowiak said following Onwas' play against the Arizona State Sun Devils on Feb. 23.
Onwas had a modest 12 points, five rebounds and three assists in the team's 86-63 win over the Sun Devils. But his two athletic blocks — one of which was featured on ESPN SportsCenter's Top 10 plays — energized the team and got the momentum going as the Utes went on to an early lopsided lead.
"It's something that's in his arsenal. He's an athletic, strong wing and it's pretty neat he's getting some recognition for it," Krystkowiak added.
---
We haven't had that kind of athleticism and that kind of pursuit of basketballs around here.
–Larry Krystkowiak
---
Growing up, Onwas played a variety of sports, including baseball, basketball and football. But basketball was never his focus until his junior year at Seven Lakes High School. Onwas joined an AAU basketball program that year — playing for the Houston Hoopstars — and basketball really became his focus.
"Once I started playing with them it really started escalating my game," he said.
Onwas went on to play two seasons at Navarro College (Corsicana, Texas) where he was the team's leading scorer, averaging 11.3 points, 3.9 rebounds and 1.8 assists a game as a point guard. As a result, Onwas received scholarship offers from Kansas State, TCU and Utah.
Joining the program in the summer of 2013, Onwas said he chose Utah because of the atmosphere and the overall experience he had on a visit with DeMarlo Slocum, Utah assistant coach who recruited junior college transfers Delon Wright and Marko Kovacevic; freshman Ahmad Fields; and soon-to-be freshman Kyle Kuzma, who will join the program after he graduates from high school this spring.
"He (Slocum) didn't promise me anything," Onwas said. "He just said that if I worked hard good things would happen."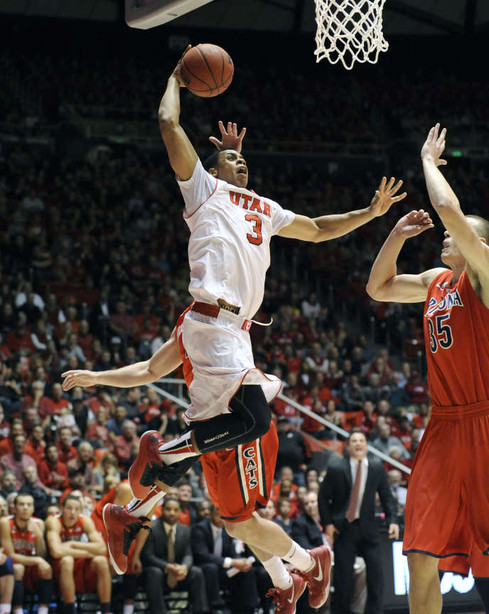 The transition from a junior college to a Div. I school, however, has not gone perfectly for Onwas. He's had his share of bumps in the road.
"I think he had a little bit of paralysis with over analysis in some situations and maybe expected it to be a little easier than it was," Krystkowiak said.
"It's a big transition really," Onwas said. "In D-I the play is different. JUCO is more fast-speed, D-I is more half-court offense. I was having slumps because maybe I was overthinking things."
After losing playing time and a regular spot in the rotation early on in the season, Onwas took a weekend to re-focus, Krystkowiak said, and it changed the dynamic of the team moving forward. Onwas returned the next Monday morning focused and ready to reclaim his spot on the team.
"I think in that moment of truth he came back and had one of his best weeks of practice," Krystkowiak said. "That gets your attention as a coach and says, 'hey, this guy is with us.'"
"It made me think to never take anything for granted," Onwas said. "It made me play harder every day and every night — just made me put in extra work, basically.
"I just started having fun and everything started coming into place," he added.
Throughout the ups and downs, Onwas remained positive and came into the gym each day ready to work, and that work ethic and never-give-up attitude impressed the coaches.
"He's just stayed the course the whole time and has provided energy for us — obviously given us a big lift from an athletic point of view," Krystkowiak said. "He's comfortable with the system and he doesn't have to think as much as he did three months ago. He's just letting some of his instincts take over."
With two games left in the regular season, Onwas has become a viable option to add size to the lineup and improve the defensive presence on the court. But even if Onwas is not called on to play a large role moving forward, he said he'll continue to do whatever it takes to be a team player and put in the work.
×
Related Stories