Estimated read time: 2-3 minutes
This archived news story is available only for your personal, non-commercial use. Information in the story may be outdated or superseded by additional information. Reading or replaying the story in its archived form does not constitute a republication of the story.
Ed Yeates reporting An amazing experiment at the University of Utah has successfully prevented, even reversed, two major eye diseases that can lead to blindness. Dr. Randall Olson, who heads up the university's Moran Eye Center, calls the findings "historic."
Inside the Eccles Human Genetics Lab, researchers successfully activated a protein in mice that both prevented and reversed age-related macular degeneration and diabetic retinopathy.
Graduate Ph.D. researcher Nyall London explained, "We were able to induce retinopathy or macular degeneration, and then reverse the process with a protein that binds to the Robo4 receptor."
London speaks of this protein called robo4 that, when triggered, reversed abnormal growth of blood vessels in the eye. It also stabilized the vessels to prevent leakage. These are the major villains in the two eye diseases.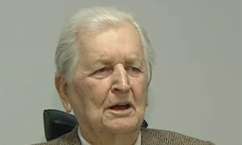 Results of the mouse models look so good right now, human clinical trials are sure to follow. Those trials could begin within five years. Ralph Johnson might be a participant in those trials. He has macular degeneration in both eyes.
"Most of the things I can see -- pretty much everybody in the room, except their faces. It would be hard to see your face," he said.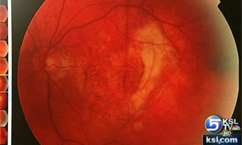 The difference between a normal eye and one of Ralph's eyes is that in his eye, the architecture has changed. The white area is scarring from leakage and bleeding. In retinopathy, bleeding occurs in front of the macula. Activation of the robo4 protein might have prevented the need for surgery that produced all the scarring in his eye.
Ophthalmologist Dr. Kang Zhang talked of the potential for robo4 activation drugs. "So in this case ... take this robo pathway of drugs, which activate robo4 directly, for example, inject them into the eyes to treat the two leading causes of blindness."
Injections at first, but researchers eventually might be able to get protein molecules small enough to be administered via eye drops.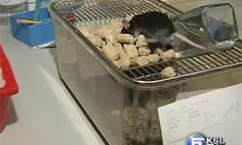 Beyond macular degeneration and retinopathy, robo4 might even have applications in treating SARS or pulmonary edema, in which blood leaks into the lungs' airway spaces.
"Like pandemic influenza, bird flu, other settings where respiratory infections actually cause a remarkable amount of vascular leak," London said.
Though the experiments for now are only in mice, the National Eye Institute is calling the discovery a major scientific advancement.
The robo4 study involved a major collaboration between the University of Utah, the University of California at San Diego, the National Heart, Lung and Blood Institute, and the Harvard Medical School.
E-mail: eyeates@ksl.com
×