Estimated read time: 3-4 minutes
This archived news story is available only for your personal, non-commercial use. Information in the story may be outdated or superseded by additional information. Reading or replaying the story in its archived form does not constitute a republication of the story.
SALT LAKE CITY — The Division of Wildlife Resources is trying to find homes for endangered tortoises that have been removed from the wild and is turning to the public for help.
About 40 desert tortoises that have been removed from their native homes need a home, according to DWR. The tortoises cannot be released back into the wild because they could introduce diseases into Utah's wild tortoise population. Those diseases are not transmittable to humans, DWR said.
Now, DWR is asking that people who have a fenced yard of at least 15 feet by 10 feet consider adopting one of the tortoises from its facility in Washington County. Of the approximately 40 tortoises there, some have been there for nearly 10 years. DWR receives between 10 and 12 tortoises each year and has adopted many of those animals out to Utahns.
The adoption is a lifetime commitment, as the tortoises can live in captivity up to 90 years, according to DWR's native aquatic species coordinator Krissy Wilson. People are asked to keep the animal for as long as they can care for it.
"These animals will be animals that you will pass down in your family or you can, at some point, turn them back to the state," Wilson said.
Wilson encourages tortoise owners to treat the animals as they would any other pet. She said she takes many tortoises in before they are adopted, and in cold weather or chilly nights, she allows them to roam around her house as she does her other pets. The tortoises often find a corner to sleep in and are quiet when they are not interacting and showing off their own personalities, she said.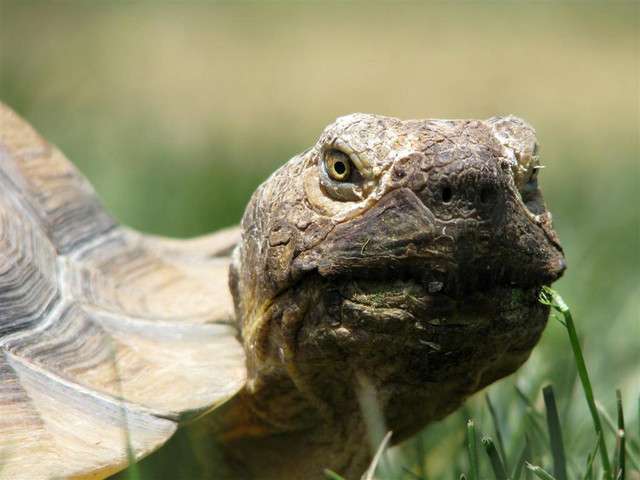 "I look at it as: These animals are never going back to the wild. So these animals are domesticated," Wilson said. "Interact with them, touch them, handle them, and they will get to where they recognize you and they come to you. They can be a very unique companion animal that you would never even consider, given that it's a cold-blooded reptile."
The tortoises do need an indoor space when temperatures reach below 55 degrees, but by October, they typically begin their five to six months of hibernation, Wilson said. She added that although the DWR has specific requirements, the agency also works with interested individuals.
"We just work with people the best we can. It's not always this cut-and-dry 'You've gotta have it this way or else.' We do what we can to work with folks to work with what they have available so they can adopt a desert tortoise," she said.
Anyone interested is asked to first review the DWR-produced handbook on the animals, then fill out an application and contact the agency. There is an $80 fee for adoption, which Wilson said is to help with paperwork and the vetting process.
"We want all 30 to 40 we have all adopted. We want them out of captivity, we want them into people's homes," Wilson said.
Contributing: Dave Cawley
×
Photos
Related Links
Related Stories