This archived news story is available only for your personal, non-commercial use. Information in the story may be outdated or superseded by additional information. Reading or replaying the story in its archived form does not constitute a republication of the story.
PROVO — Children have to rescue famous characters after they are kidnapped by a thief in a new interactive game developed to promote literacy.
"Readers to the Rescue" lets kids fill in the blanks in a story after key characters are stolen from a classic tale. It was designed by students at Brigham Young University for the Library of Congress and is available to play for free online.
"The goal is to use the same technology that distracts them away from reading other books to actually be the hook that gets them back into reading books," said advisor Jeff Sheets.
After kids successfully rescue the characters, an electronic copy of the original book is unlocked for them to read. There are 36 mini films available for children to become a part of, all based on stories that are part of the public domain. Books include "Pinocchio," Rapunzel," "The Arabian Knights" and "The Three Bears."
The game is a multi-media effort that includes original music, animation and live-action video. Students at BYU's Laycock Center came from a wide variety majors to make the project possible.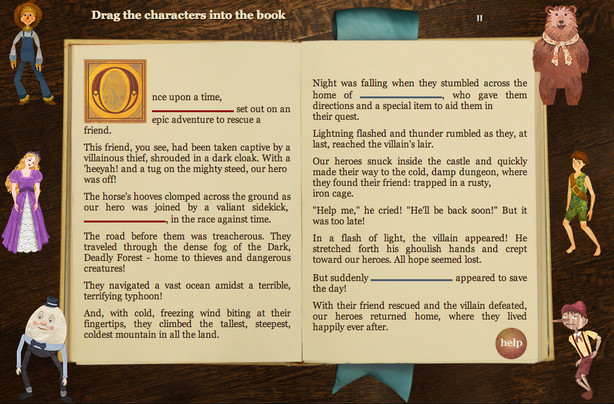 "It's fun just revisiting these stories from my childhood and getting to kind of conceptualize what these characters would look like — it's like revisiting old friends," said lead student animator Melissa Manwill.
Sheets said one of the initiatives of the Laycock Center is to promote literacy.
"The research that we've conducted and seen from other sources says if you can get a child in their early, formative years to really be passionate and care about reading, it can actually change their whole outlook and perspective," he said. "They are less likely to do drugs, less likely to join gangs, less likely to have teen pregnancy, if they like to read ... because they understood through story how to model better behavior."
This works in particular for some of the lower-income places where there isn't as much help at home, Sheets said. "Readers to the Rescue" was targeted at students in grades 3 through 5.
Related Story
BYU has collaborated with the Library of Congress in the past: Students have made advertisements, TV commercials and billboards for the library. Sheets approached the Library of Congress with the idea of developing an engagement device to help kids become involved in reading.
"With that partnership we always wanted to put our creative skills towards things that have value so that we could actually teach good principles and engage the world in positive, happy ways," he said.
Sheets said the Library of Congress was a little surprised by the idea of using a game at first, but that they were intrigued by the possibility of partnering with a university to develop a strategy aimed at involving a younger audience in reading.
The kids who have used the game have been able to develop a relationship with the characters while they play and want to read the book at the end to learn more about their new friends, he said.
"I had no idea how wonderful it was going to be," said Library of Congress communications officer John Sayers in a statement. "Everyone is tickled. I don't think anything we've ever done along these lines ties so directly into reading and does it in such a delightful manner."
×
Photos
Related Links
Related Stories