This archived news story is available only for your personal, non-commercial use. Information in the story may be outdated or superseded by additional information. Reading or replaying the story in its archived form does not constitute a republication of the story.
SALT LAKE CITY — Charging an electronic device while camping can be as simple as boiling water, thanks to a local company.
Power Practical is continuing to perfect its PowerPot portable generator that can double as a device charger and cooking pot. The original PowerPot V received the Editor's Choice Snow Award from "Backpacker Magazine" in 2013.
"The latest version of the PowerPot features twice the power and a larger cooking volume," said Riley Swenson. "The improved efficiency offers campers faster charging times for their devices while a larger pot allows campers to prepare food for friends and family."
The PowerPot can charge any USB device using thermoelectric power. To charge a device, users just need to connect a USB charging cable to the pot, add water and then heat the pot. The pot harvests the heat created by cooking and turns it into electricity.
David Toledo and Paul Slusser combined their love of the outdoors with their love of thermal electronics to come up with the idea of PowerPot. They were students at the University of Utah when they decided it would be fun to create a generator to power portable speakers to listen to music around campfires.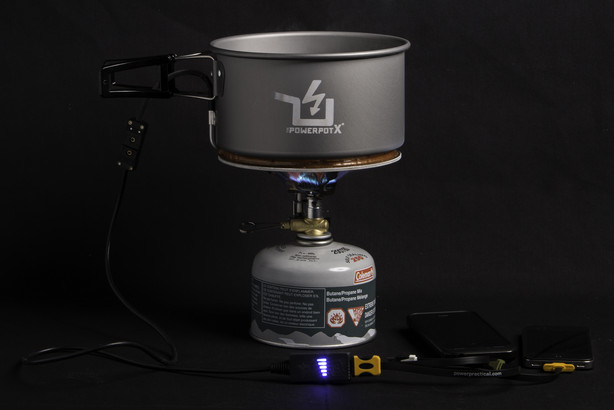 After a successful Kickstarter campaign in 2012, they started targeting retailers so people who were interested in having power in the outdoors would have a place to purchase the pots, according to CEO Matt Ford.
The PowerPot is unique because of the flexibility it offers, Ford said. Typically portable power is limited to solar panels or batteries, which are dependent on weather and battery life. With the PowerPot, he said, as long as you have a heat source and water you can generate power, regardless of the weather or other conditions.
The new PowerPot X offers twice as much power as the original with an output of 10 watts, which is enough to charge two phones at the same time or a larger device like a tablet.
Ford said feedback for the PowerPot has been extremely positive. Both the original PowerPot and PowerPot X were funded on Kickstarter. For the PowerPot X, they exceeded their goal by more than $30,000. Ford said leveraging the crowd-sourcing platform has allowed them to pre-sell their products while avoiding having to turn to a bank for a loan.
"Perhaps most importantly, it's helped us validate our products against the open market, helping us gauge both the demand for our product and get quality product feedback from our early adopters," Swenson said. "The momentum a successful Kickstarter project gives a product is huge. It's definitely been a game-changer for startup companies."
They also found success on Kickstarter with their Practical Meter, which helps speed up charging for phones and other devices. They sold 15,000 units in the first six months after funding the project.
Power Practical showcased the PowerPot X at the Winter Outdoor Retailer show in Salt Lake City. The company is based in Salt Lake City, and Ford said Utah is a natural fit for a device designed to benefit people who love the outdoors.
×
Photos
Related Stories