ST. GEORGE — A man accused of claiming to be multiple rock stars in an attempt to avoid paying medical bills at a St. George hospital missed his court date Tuesday.
Phillip Michael Schaeffer, 54, claimed to be a rock star on three separate visits to the Dixie Regional Medical Center. He said his agent would take care of the medical bills and left without paying, according to an affidavit of probable cause filed in the 5th District Court.
Schaeffer first posed as guitarist Alex Lifeson of Rush on Dec. 21, 2011, and racked up a $23,328 bill for treatment, according to the affidavit. He left the hospital in opposition to advice from the hospital staff the following day.
He returned to the hospital two more times, posing as Pink Floyd band member David Gilmour on Nov. 30, 2012, and Feb. 26, 2013, according to court documents. Hospital staff told the police that Schaeffer said he was insured by Lloyd's of London and his agent, Phil Michaels, would fax his insurance information to them.
Related Story
Medical bills for treatment during the two visits totaled more than $49,000, according to court documents. He again left the day after he received treatment against medical advice. It is unknown what he was being treated for.
When Schaeffer returned to the hospital in February 2013 claiming to be Gilmour, a member of the hospital staff remembered a man had posed as rock star before. She checked the contact information for both Gilmour and Lifeson and found it was the same. The address he provided both times was for the same empty lot, according to police.
The St. George Police Department began investigating Schaeffer after they were informed about his potential fraud by the hospital in April 2013. They were able to confirm his identity with hospital staff after finding an article about his arrest for impersonating Gilmour at a Minnesota hospital and seeing his picture. Schaeffer is a Minnesota resident.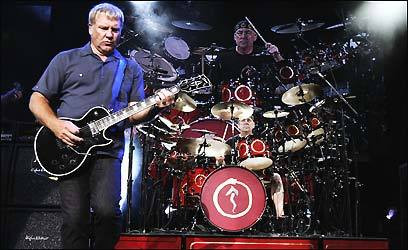 Schaeffer was trying to avoid a $100,000 medical bill at the St. Cloud Hospital in Minnesota on April 20, 2013, when he was arrested, according to local news sources.
"There was some discussion among security staff leading people to believe that he really wasn't David Gilmour," hospital spokeswoman Jeanine Nistler told the St. Cloud Times. "Our security supervisor pulled up the security camera shots of when this man entered the hospital and compared them to pictures on the Internet of Pink Floyd's David Gilmour and determined he was not David Gilmour."
Before being arrested, Schaeffer signed an autograph for one of the hospital employee's sons.
A summons for Schaeffer to appear in court in Utah was filed on suspicion of two counts of communications fraud for identifying himself as another person to obtain medical care. He was unable to come to court in Utah because he is currently incarcerated in the Sandoval County Detention Center in New Mexico, according to court documents.
×
Photos
Related Links